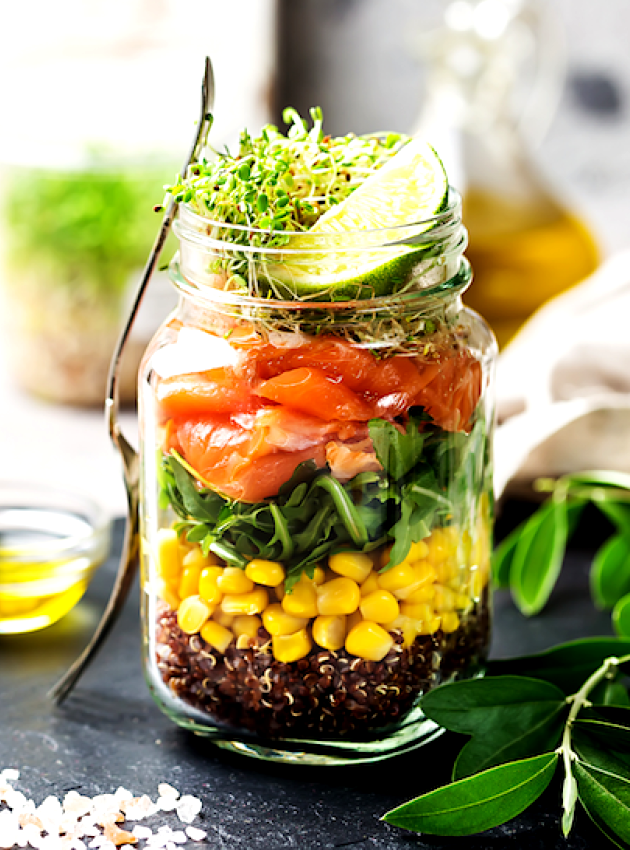 Discover the taste of Mexico in a jar with our vibrant and nutritious Mexican Salad. Packed with fresh ingredients and bold flavors, this portable delight makes healthy eating a breeze. Enjoy the convenience and savor the fiesta in every delicious layer!
Ingredients
Ingredients for the sauce
170 ml (2/3 cup) Greek yogurt 0% or 2% 
10 ml (2 tsp) of cider vinegar 
5 ml (1 tsp) of honey 
5 ml (1 tsp) sriracha (optional) 
1/2 cup finely chopped cilantro 
A pinch of salt  
Ingredients for the salad   
250 ml (1 cup) canned black beans 
65 ml (1/4 cup) english cucumber, diced 
190 ml (3/4 cup) corn grain 
125 ml (1/2 cup) tomatoes, diced 
1/2 avocado, diced 
15 ml (1 tbsp) lemon juice 
125 ml (1/2 cup) grated cheddar cheese
Preparation
Put the sauce at the bottom of the jar by mixing all the ingredients. 
Put the black beans on top of the sauce, and spread the other ingredients according to the order in the list. 
To eat in the jar, leave space on the top so you can mix well.