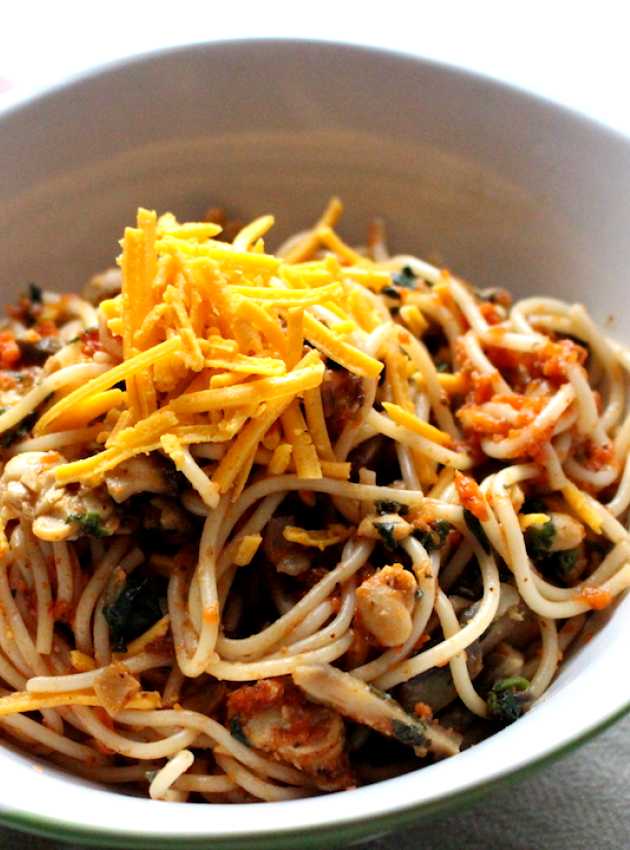 Dive into a bowl of deliciousness with our recipe for Tempeh Pasta with Homemade Tomato Sauce. Indulge in the perfect combination of tender tempeh, al dente pasta, and flavorful homemade tomato sauce. Easy to make and full of plant-based goodness!
Ingredients
15 ml (1 tbsp) oil
1 onion, diced
1 clove garlic, chopped
500 ml (2 cups) mushrooms
240 g crumbled tempeh
10 ml (2 tsp) tamari sauce
250 ml (1 cup) chopped spinach
240 g of long pasta of your choice
Sauce
3 medium carrots, sliced into slices
4 tomatoes, diced
30 ml (2 tbsp) tomato paste
10 ml (2 tsp) chili powder
10 ml (2 tsp) dried basil
Salt and pepper to taste
A pinch of nutmeg (optional)
5 ml (1 tsp) sambal oelek (for spicy version)
125 ml (1/2 cup) grated cheese or Daya (for a vegan version)
Preparation
In a saucepan filled with boiling water, cook the pasta according to the instructions on the package, then set aside.
In a saucepan filled with boiling water, cook carrots for about 10 minutes or until tender.
In a skillet, grill the garlic and onion in oil over medium-high heat for about 5 minutes. Add the mushrooms and continue cooking for 10 minutes, stirring occasionally.
Add the tempeh, tamari sauce, spinach, salt and pepper to the pan and continue cooking over medium heat for about 7 minutes.
For the sauce, place the cooked carrots, tomatoes, tomato paste, chili powder, dried basil, salt, pepper, nutmeg and sambal oelek (if desired) in a blender and mix for 2 minutes, or until the mixture is well blended.
Combine pasta, topping and sauce in a bowl, then spread cheese on top.