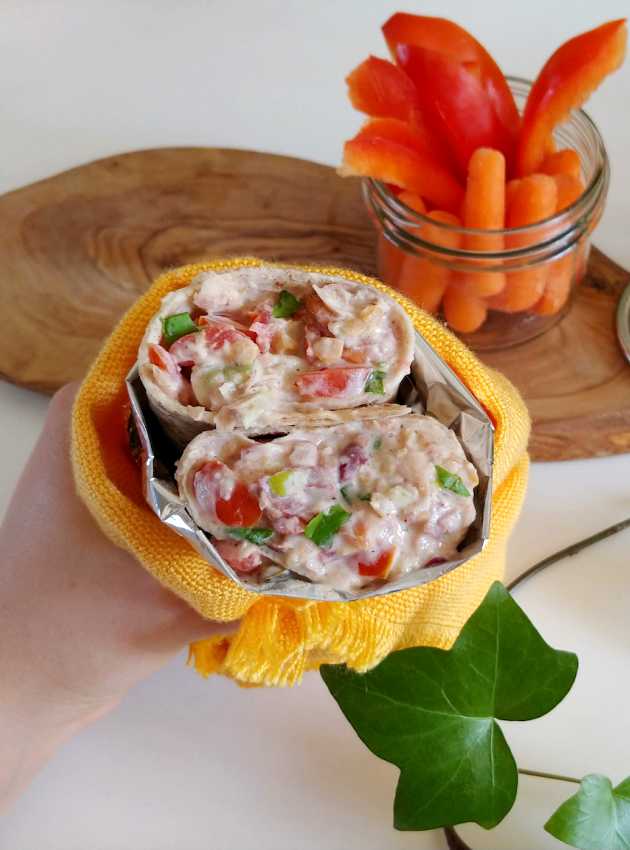 Looking for a quick and tasty lunch with a minimum of ingredients? This recipe is for you!
Ingredients
180 ml (¾ cup) canned mixed legumes, rinsed and drained
½ small tomato, about 80 ml (or 1/3 cup) diced
2 green onions, finely chopped
60 ml (¼ cup) plain Greek yogurt
Juice of ¼ lime (or 7.5 ml / 1/2 tbsp)
1 ml (¼ tsp) chili powder
Pepper and salt to taste
1 whole grain tortilla (or corn tortilla for a gluten free option)
Preparation
Using a fork, mash the legumes in a soup plate. 

Add all remaining ingredients and mix well.

Place the mixture in the center of the tortilla, fold two sides towards the center, then roll in the opposite direction to form a closed cylinder.

Enjoy with raw vegetables for lunch or dinner!
Notes
The filling can be kept for 5 days in the refrigerator and does not freeze.