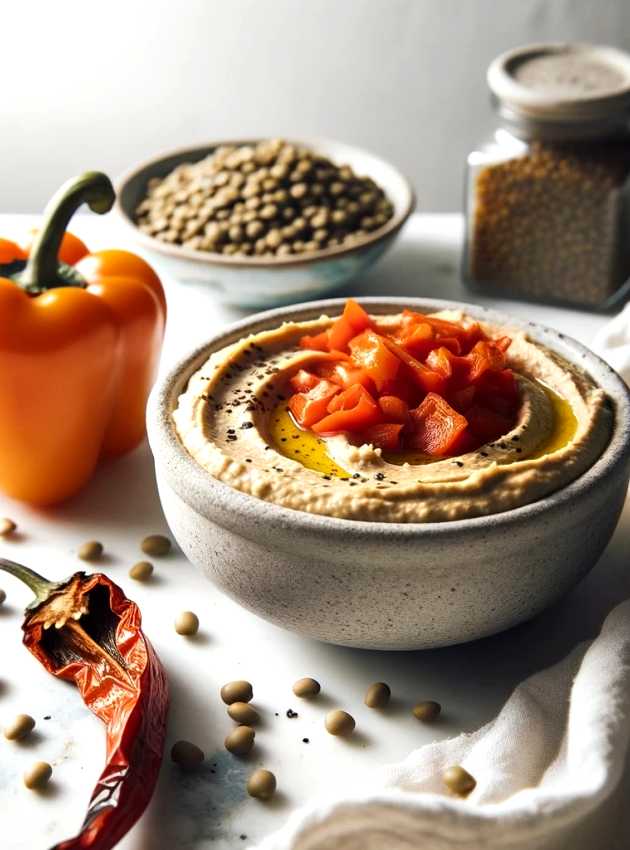 Discover our delightful recipe for lentil and chickpea hummus with roasted peppers. A quick, no-cook preparation that bursts with flavors. Elevate your snacking experience with this nutritious and delicious delight.
Ingredients
1 red bell pepper, seeded and halved
45 ml (3 tbsp) olive oil
Salt and pepper to taste
250 ml (1 cup) cooked chickpeas, rinsed and drained
250 ml (1 cup) cooked brown lentils, rinsed and drained
5 ml (1 tsp) garlic, chopped
5 ml (1 tsp) smoked paprika
10 ml (2 tsp) miso paste *
10 ml (2 tsp) sambal oelek or sriracha (optional)
Note: Miso is a fermented paste made from soy, cereal and salt that can be found in most organic grocery stores. You can replace it in this recipe with soy sauce.
Preparation
Preheat the oven to 450°F (230°C). Line a baking sheet with aluminum foil.
Place the two red bell pepper halves on the baking sheet and drizzle with 15 ml (1 tablespoon) of olive oil. Season generously with pepper and add a pinch of salt,
Bake in the oven for 15 minutes.
While your bell peppers are roasting, place all the other ingredients in a bowl.
Add the roasted peppers and puree with a hand mixer until smooth and creamy. 
Adjust seasoning if necessary. Enjoy with crudités, crackers or in a sandwich!
Notes
Will keep for 4 to 5 days in the refrigerator and will not freeze.