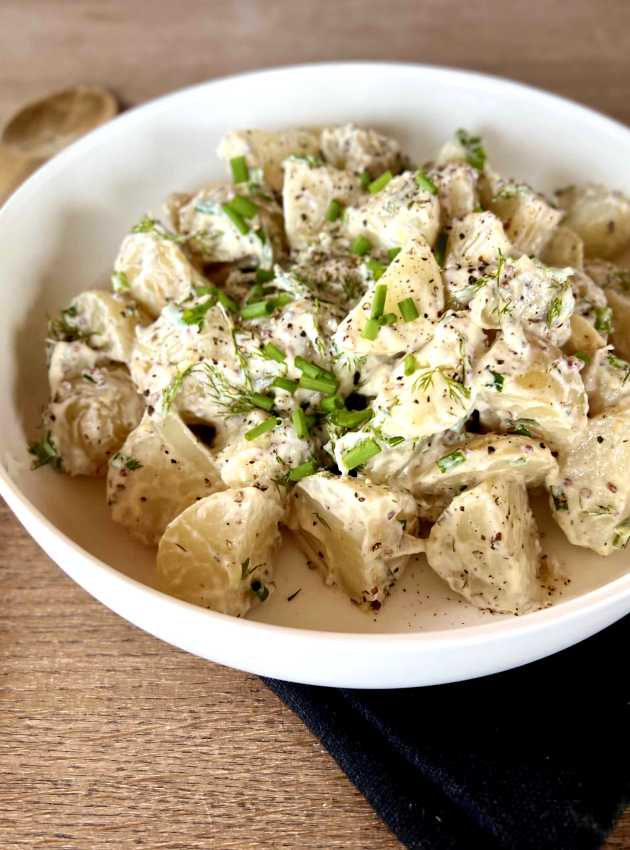 A fresh spin on a classic potato salad. This side dish can be served alongside your favourite protein and vegetable 
Ingredients
500 g Potatoes
60 ml (¼ cup) Greek Yogourt (0%, natural)   
30 ml (2 tbsp) finely chopped dill 
20 ml (4 tsp) Ancient grains Dijon mustard
15 ml (1 tbsp) Lemon juice 
5 ml (1 tsp) olive oil
30 ml (2 tbsp) chives, cut into 1/2cm strips 
Salt and pepper
Preparation
Boil the potatoes for about 15 minutes, or until tender. 
Let cool for 10-15 minutes. 
While potatoes are cooling, combine yogurt, dill, lemon, and Dijon mustard and olive oil in a small bowl. 
Once potatoes are cooled, cut into quarters, then combine, and stir all ingredients in a medium bowl.
Add salt and pepper to taste and top with chives, enjoy!