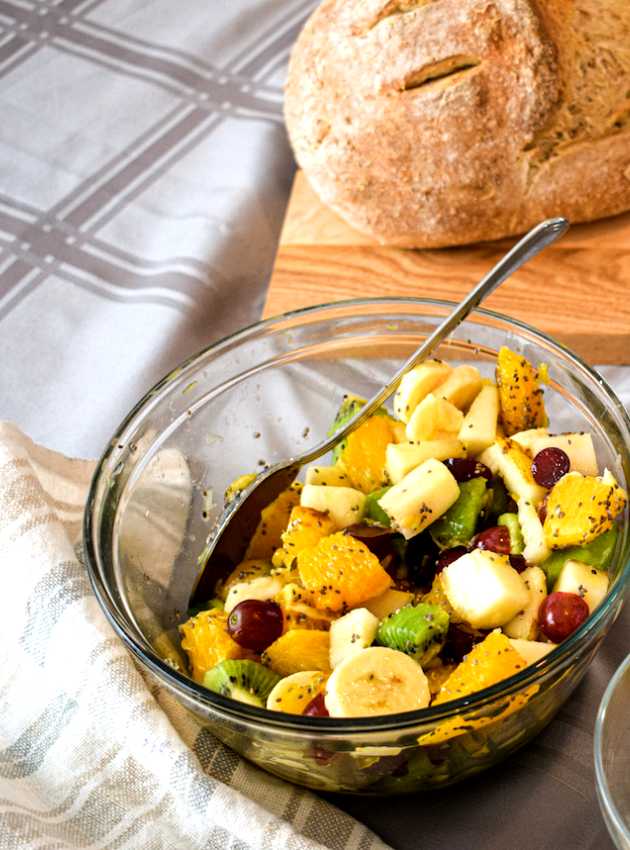 This fruit salad is simple and refreshing! Despite the cold season, the fruits used are easy to find in grocery stores. For a light dessert or a snack, choose this fruit salad filled with vitamins and fiber. Your taste buds will be delighted.
Ingredients
4 kiwis, peeled and diced
2 oranges, cored and cut in half (see Notes)
2 pears, seeded and diced (see Notes)
1 large banana, peeled and sliced
250 ml (1 cup) grapes, red or green, cut in half
Juice of ½ lime (1 tbsp)
15 ml (1 tbsp) whole chia seeds
Note: To extract the orange supremes, simply peel them raw with a sharp knife. Then, slide the blade of the knife between the membranes separating the orange segments to gently remove them. Apples can be used in place of pears in this recipe, and you can use clementines instead of oranges or both!
Preparation
In a large bowl, combine all ingredients. Serve alone or with Greek yogurt for breakfast or a snack.
Conservation
Can be kept for 3 days in the refrigerator in an airtight container.