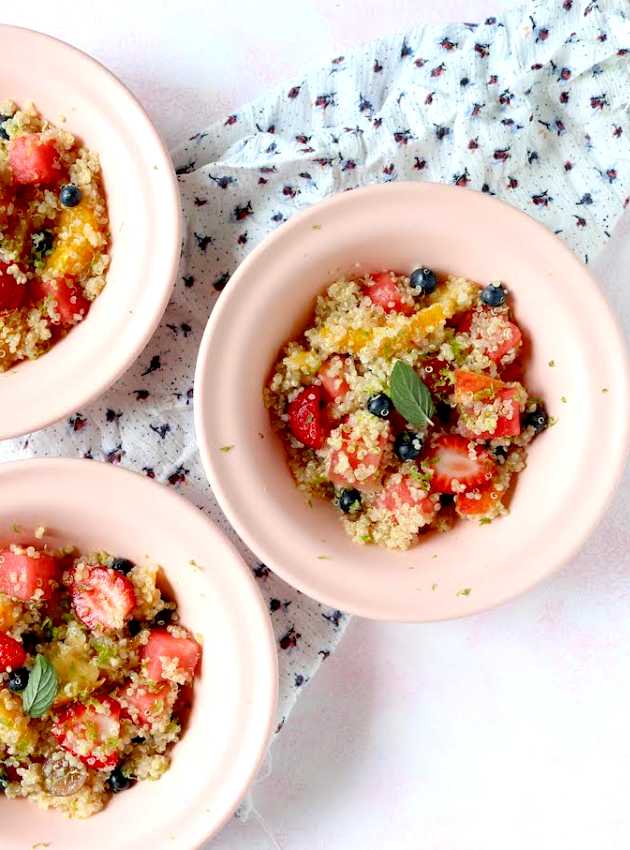 Discover our Lime-infused Fruit and Quinoa Salad, a refreshing burst of exotic flavors and textures. A balanced combination that delights your taste buds and nourishes your body. Indulge in freshness and vitality with every bite!
Ingredients
750 ml (3 cups) fruit of choice, diced (FODMAP option : strawberries, grapes, blueberries, oranges)
500 ml (2 cups) cooked quinoa, cooled (160 ml /2/3 cup dry quinoa + 325 ml /1 1/3 cups water, see preparation)
15 ml (1 tbsp) maple syrup (optional)
Zest and juice of a lime
Preparation
Rinse quinoa in a colander. 
Place in a large microwave-safe bowl and add water. 
Cover with a large plate. Microwave for 10 minutes on high, then let stand for 10 minutes. 
In a large bowl, place all the ingredients. Mix well and serve cold.
Notes
Can be kept for 3 days in the refrigerator.