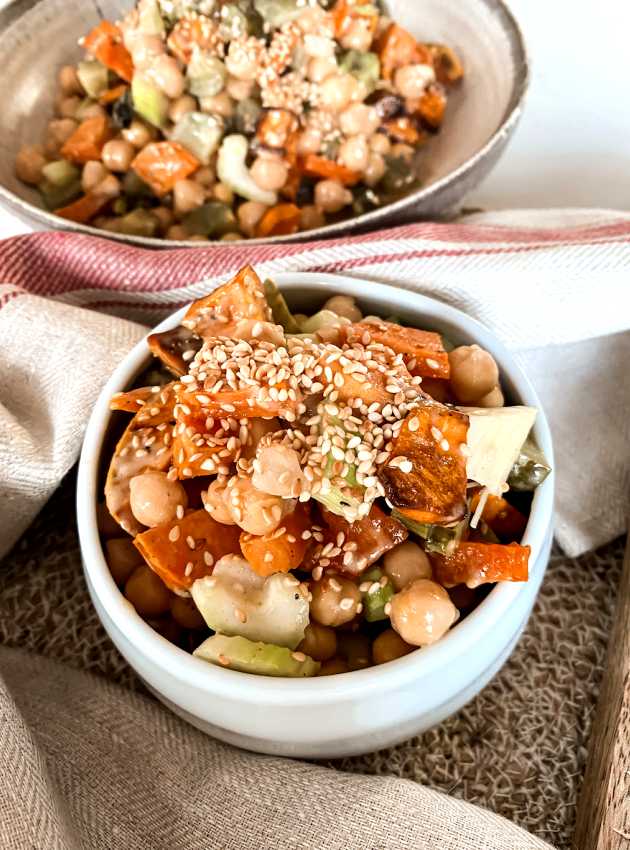 Discover our delicious recipe for sweet potato and chickpea salad, a perfect combination of the sweetness of sweet potatoes and the creamy texture of chickpeas. Try this healthy and flavorful salad today!
Ingredients
Salad
2 sweet potatoes, diced
15 ml (1 tbsp) vegetable oil
Pepper and salt to taste
One can (540 ml) chickpeas, rinsed and drained
One stalk of celery, diced
80 ml (1/3 cup) cubed pickles
15 ml (1 tbsp) toasted sesame seeds
Sauce
60 ml (1/4 cup) mayonnaise or veganaise
15 ml (1 tbsp) lemon juice
15 ml (1 tbsp) Dijon mustard
5 ml (1 tsp) ground cumin
Pepper and salt to taste
Preparation
Preheat the oven to 400°F (200°C). Line a baking sheet with parchment paper or a silicone mat.
Place potatoes in a large bowl.
Add oil, pepper and salt and toss well to coat each piece.
Spread potatoes on a baking sheet and bake for 35 minutes, stirring halfway through. Remove from the oven and let cool.
In a large bowl, combine all salad ingredients except toasted sesame seeds.
In a small bowl, combine all dressing ingredients.
Stir dressing into sweet potato and chickpea salad.
Sprinkle it with toasted sesame seeds.