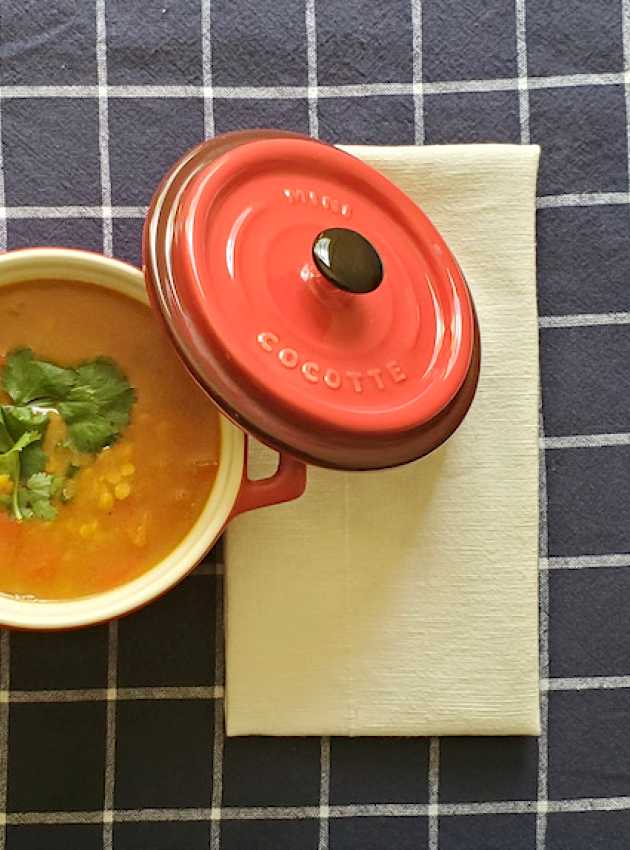 This recipe is a delightful fusion of comforting and nutritious flavors. Indulge in this warm, balanced, and easy-to-make soup. Try it now for a nourishing and satisfying meal.
Ingredients
2 red bell peppers, chopped 
1 yellow onion, chopped
30 ml (2 tbsp) olive oil
2 ml (½ tsp) ground turmeric
2 ml (½ tsp) cumin seeds (see note)
2 ml (½ tsp) coriander seeds (see note)
1.25 L (5 cups) low-sodium vegetable broth
15 ml (1 tbsp) tomato paste
250 ml (1 cup) dried red lentils
30 ml (2 tbsp) fresh cilantro, finely chopped
2 green onions, chopped 
Pepper and salt to taste
Note: If you do not have cumin or coriander seeds, substitute with the same amount of ground cumin or coriander.
Preparation
In a large saucepan, heat olive oil over medium heat. Add red peppers, onions and spices and cook until onions are tender, about 5 minutes. Season to taste.
Add vegetable broth and tomato paste. Bring to a boil, then cover and simmer for 15 minutes over medium-low heat.
Add red lentils and simmer for 5 minutes, or until red lentils are tender.
To serve, garnish with fresh cilantro and green onions.
Notes
Can be stored for 4 days in the refrigerator in an airtight container.