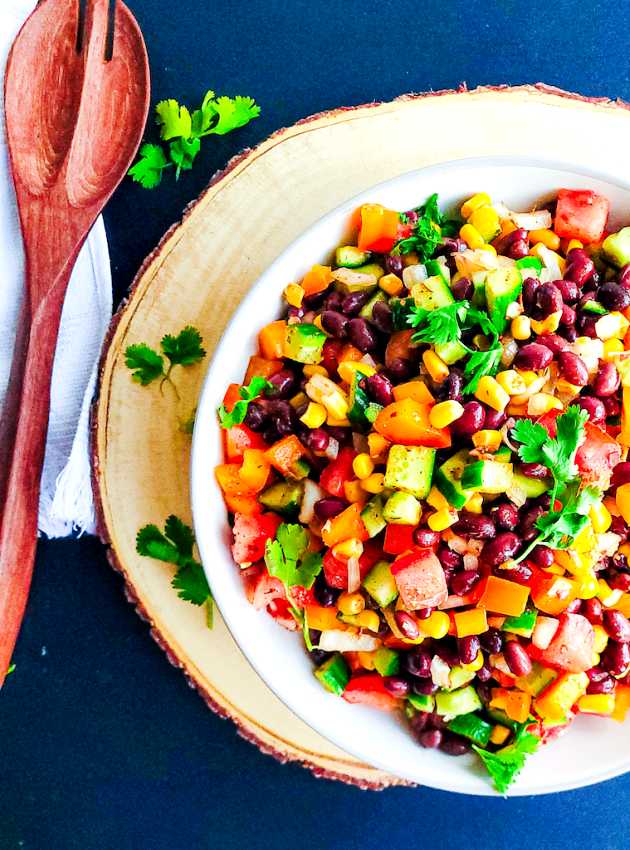 A recipe with just one step? Oh yes! This refreshing salad is the perfect accompaniment to your BBQ dishes – a delightful change from the traditional green salad! Not to mention, it's packed with fiber to keep you satisfied for longer. To turn it into a meal, add some goat cheese or a few cubes of tofu.
Ingredients
1 can (540 ml) of black beans, rinsed and drained
185 ml (¾ cup) of canned corn kernels, rinsed and drained*
3 mini cucumbers, diced
1 orange bell pepper, deseeded and diced
1 tomato, diced
½ white onion, minced
60 ml (¼ cup) of fresh cilantro, chopped
10 ml (2 tsp) of chili seasoning
10 ml (2 tsp) of lemon juice
5 ml (1 tsp) of Italian seasoning
1 ml (¼ tsp) of crushed red pepper flakes
1 ml (¼ tsp) of cayenne pepper
Pepper and salt, to taste
Note: You can also use frozen corn kernels that have been thawed or fresh corn kernels when they are in season.
Preparation
In a large bowl, mix all the ingredients together. Enjoy!
Notes
Keeps for 5 days in an airtight container in the refrigerator. Not suitable for freezing.