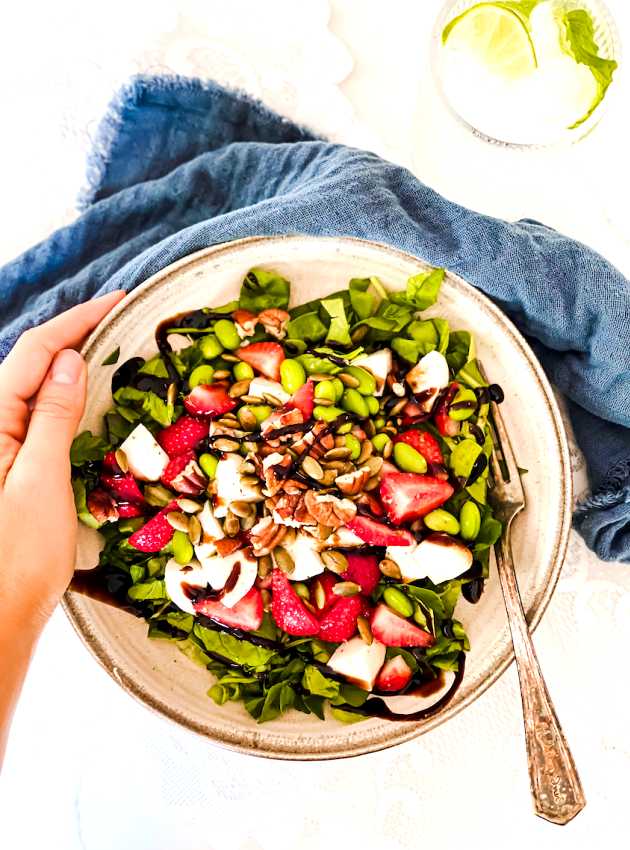 Let's make the most of the delicious fresh strawberries from Quebec while they're still in season with this quick and vibrant salad packed with colors, textures, and flavors!
Ingredients
125 ml (½ cup) chopped pecans
500 ml (2 cups) shelled edamame, thawed
375 ml (1½ cups) sliced fresh strawberries
250 ml (1 cup) bocconcini pearls, cut into pieces
60 ml (¼ cup) balsamic glaze
45 ml (3 tbsp) toasted sesame oil
Pepper and salt, to taste
1 L (4 cups) choice of greens (lettuce, spinach, arugula, etc.)
Preparation
In a high heat skillet, toast the pecans for about 3 minutes, stirring frequently until lightly roasted. Set aside.
In a medium bowl, mix all the other ingredients, except the greens.
Divide the greens into 4 serving bowls and add the strawberry mixture, then the nuts. Serve.
Notes
Can be stored for 2 days in an airtight container in the refrigerator, with the greens separated from the strawberry mixture.