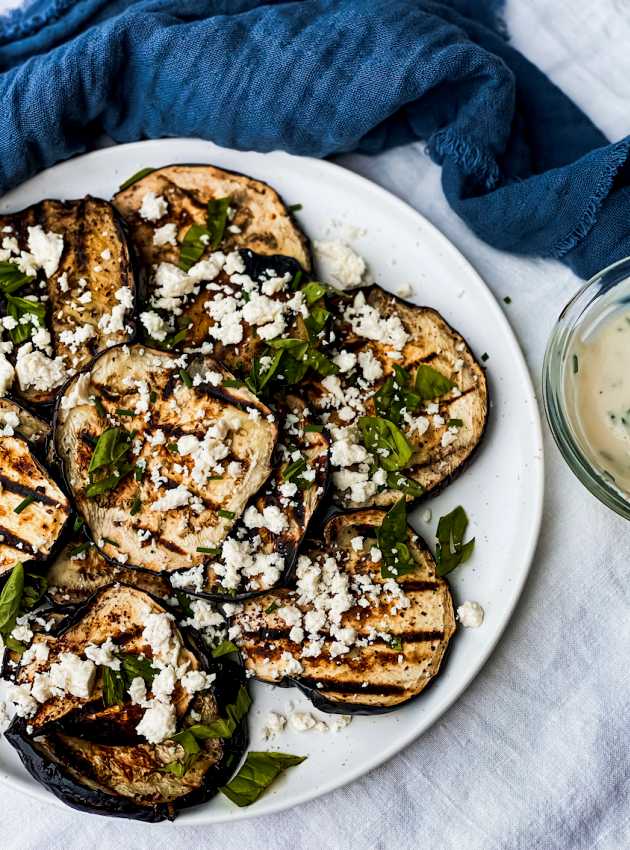 This recipe can be served as a light appetizer or a side dish. You can also add some pomegranate seeds or crushed nuts to add a touch of crunch and sweetness to your dish. Enjoy your meal!
 
Ingredients
For the grilled eggplants:
1 large eggplant
60 ml (¼ cup) olive oil
The juice of one lemon (or 60 ml / ¼ cup)
10 ml (2 tsp) sumac
5 ml (1 tsp) dried Italian herbs
2.5 ml (½ tsp) red pepper flakes (adjust to your spice preference)
Pepper and salt, to taste
For the feta topping:
60 ml (¼ cup) crumbled feta cheese
A few fresh basil leaves, chopped
Chopped chives
For the yogurt sauce:
60 ml (¼ cup) plain yogurt
15 ml (1 tbsp) fresh chives, chopped
5 ml (1 tsp) Dijon mustard
The juice of half a lemon (or 30 ml / 2 tbsp)
Ground black pepper, to taste
Preparation
Preheat your barbecue to medium-high heat.
Cut the eggplants into slices about ½ inch thick.
In a bowl, mix olive oil, lemon juice, red pepper flakes, dried herbs, sumac, salt, and pepper. Brush the eggplant slices on both sides with this seasoned oil mixture.
Place the eggplant slices on the preheated barbecue and grill for about 5 minutes on each side, until nicely tender and golden. Watch carefully to avoid burning.
While cooking, mix yogurt, fresh chives, lemon juice, black pepper, and Dijon mustard. Refrigerate until serving.
Place the grilled eggplants on a serving plate. Pour the sauce and add the crumbled feta cheese and fresh herbs. Enjoy immediately!
Notes
Can be kept for up to 4 days in the refrigerator in an airtight container, without toppings.