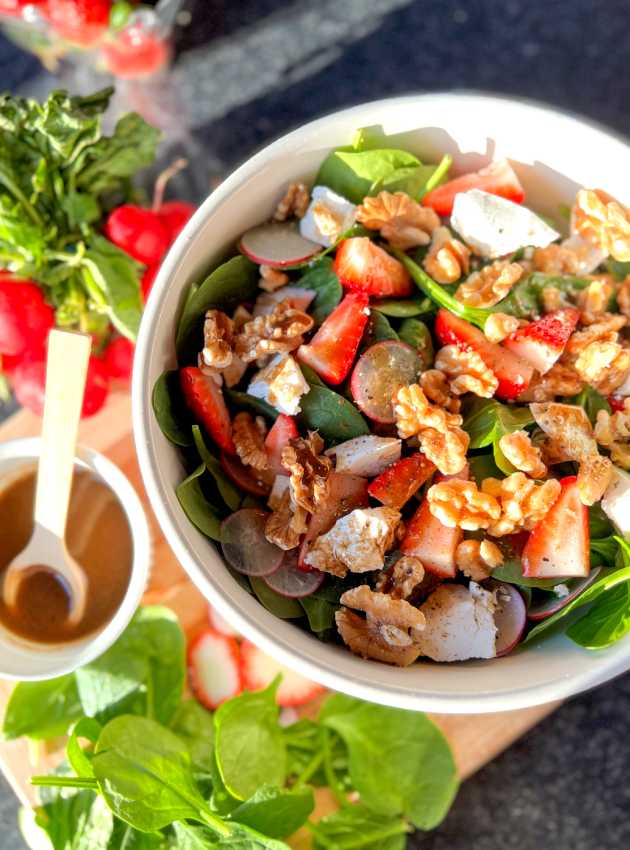 Indulge in a delightful and nutritious spinach salad with this fantastic recipe. The combination of sweet strawberries provides a burst of natural sweetness, perfectly complemented by the satisfying crunch of walnuts. This easy-to-prepare dish is a refreshing and mouthwatering choice for a delightful side or standalone meal.
Ingredients
One small container (142 g) fresh spinach, washed

125 ml (½ cup) fresh strawberries, sliced

60 g (⅓ cup) crumbled feta cheese

60 ml (¼ cup) chopped walnuts

2 radishes, thinly sliced into rounds

30 ml (2 tbsp) olive oil

30 ml (2 tbsp) balsamic vinegar

5 ml (1 tsp) Dijon mustard

Pepper to taste
Preparation
In a large bowl, combine spinach, strawberries, feta cheese, walnuts and radishes.
In a small bowl, whisk together olive oil, balsamic vinegar and Dijon mustard. Season to taste.
Pour dressing over salad and toss to coat.
Serve immediately.
Notes
Can be stored in the refrigerator for a few hours, but we recommend immediate consumption to ensure freshness.