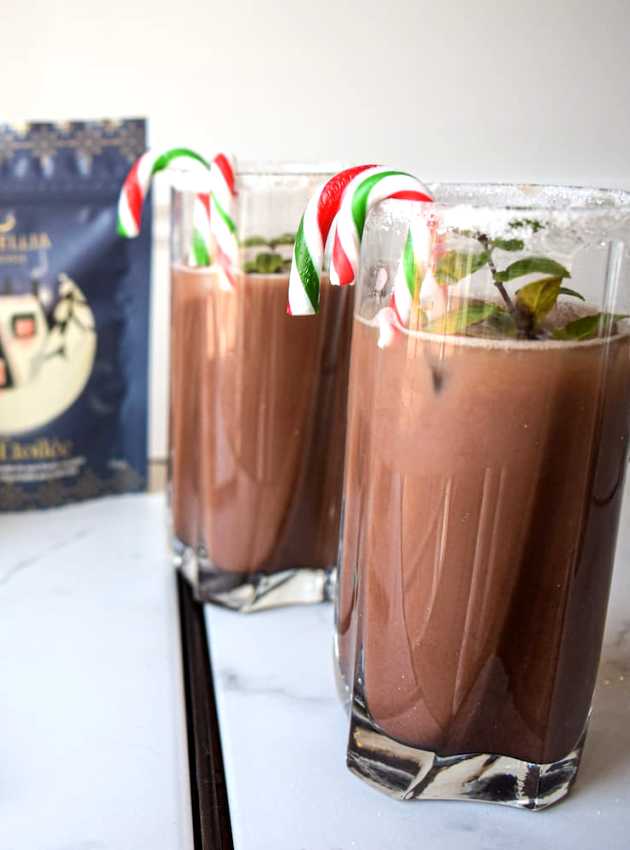 Experience the refreshing harmony of our non-alcoholic Mojitos infused with Camellia Sinensis' spiced chocolate tea. A distinctive fusion of flavors, meticulously balanced for moments of soothing delight.
Ingredients
30 ml (2 tbsp) Camellia Sinensis Nuit étoilée tea (spicy chocolate and red fruit tea)
400 ml boiling water 
125 ml (½ cup) milk or plain soy beverage
10 ml (2 tsp) cocoa powder
10 ml (2 tsp) sugar (optional)
Mint leaves or other decoration 
Sugar for the glass (optional)
Preparation
Boil water in a kettle or microwave and brew tea for 4-5 minutes.
Remove the tea bag, add the cocoa and mix well. Add milk and mint leaf. Chill for the mojito version. Rub a lime wedge over 2 glasses and dip in sugar. Add mojito mixture, ice and mint leaves or other garnish if desired before serving.
Note: You can drink this mocktail cold in a mojito glass with a sugar rim for a more festive evening or hot in your favorite mug for a cocooning evening. To drink it hot, simply heat the milk before adding it and drink immediately.