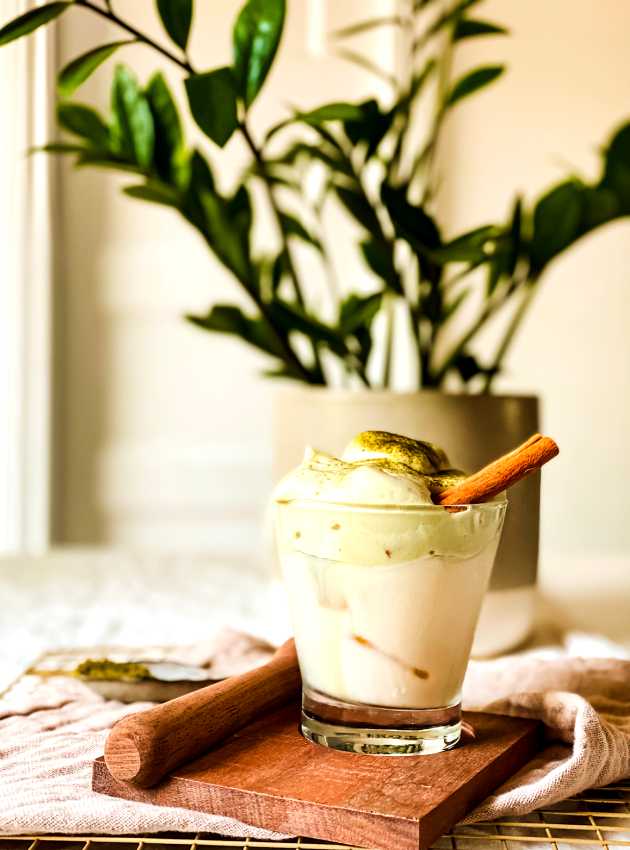 Discover an original vegan version of the popular Dalgona coffee: the Iced Matcha Dalgona Latte. Prepared with aquafaba, the liquid from canned chickpeas, it offers a foamy texture similar to egg whites. Once you try it, you'll be hooked!
Ingredients
60 ml (¼ cup) aquafaba (liquid from canned chickpeas)
10 ml (2 tsp) sugar
10 ml (2 tsp) pure matcha powder
A few ice cubes
125 ml (½ cup) unsweetened vanilla non-dairy beverage (soy, oat, almond, etc.)
Garnish (Optional)
Ground or stick cinnamon
Matcha powder
Preparation
In a bowl, whisk the aquafaba with an electric hand mixer until it thickens.
While continuing to mix, add the sugar and matcha powder. Keep beating until you achieve the desired consistency.
Fill a glass with ice cubes, then add the milk. Pour the matcha mixture over it.
Add your choice of garnish, then enjoy it cold.