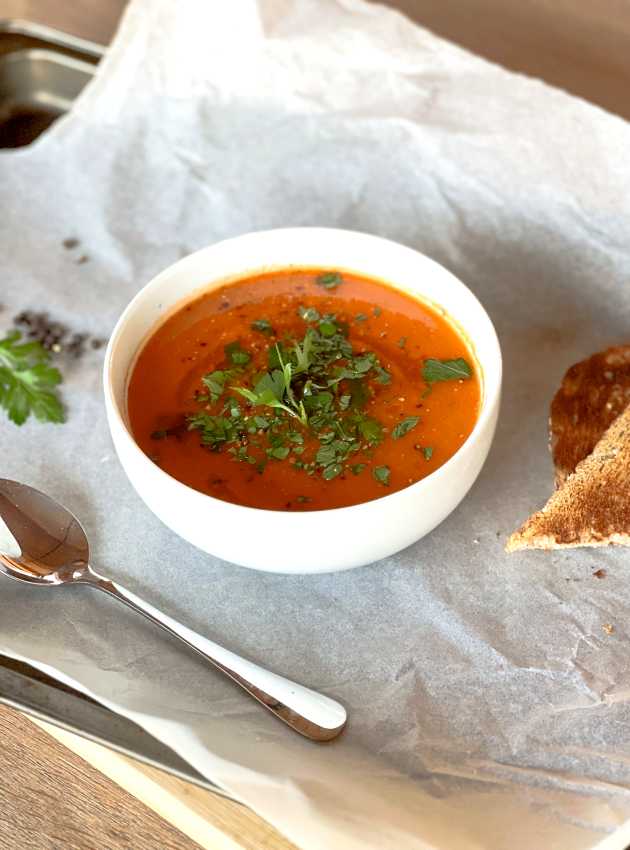 A delicious lentil soup with Mediterranean flavors. With roasted tomatoes, this soup is a true delight for the taste buds.
This recipe was created using ingredients found in the anti-waste box from our partner, Improove, a company dedicated to reducing food waste and helping you save up to 30% on your grocery bill. It's a delicious way to support sustainability while unleashing your culinary creativity!
Ingredients
2 medium white onions, peeled and roughly chopped
3 tomatoes, roughly chopped
3 red or yellow bell peppers, roughly chopped
1 bulb of garlic, cut at the base
30 ml (2 tbsp) extra virgin olive oil
1L (4 cups) water
2 cans (398 ml each) unsalted whole tomatoes
375 ml (1 ½ cups) dry red lentils, rinsed
15 ml (1 tbsp) dried oregano
1 cube (10 g) vegetable bouillon
Juice of half a lemon (or 15 ml/1 tbsp)
1 pack (28 g) fresh basil
To serve
4 slices of whole grain bread, toasted (such as St-Méthode sprouted wheat bread)
20 ml (4 tsp) spicy oil
Fresh parsley, chopped, to taste
Pepper, to taste
Preparation
Preheat the oven to 175°C (350°F).
Place all the vegetables (onions, tomatoes, bell peppers, garlic) on a parchment paper-covered baking sheet and drizzle with olive oil. Roast for 40 minutes in the oven.
After roasting the vegetables, bring the water to a boil and add the roasted vegetables (except garlic), canned tomatoes, lentils, oregano, and bouillon. Stir.
Reduce heat to low and simmer for 30 minutes, stirring regularly.
After 30 minutes, add the garlic, lemon juice, and basil to the pot, and blend until smooth using an immersion blender.
Serve the soup by adding 5 ml of spicy oil per bowl, parsley, and pepper to taste, along with a slice of toasted bread.
Notes
Can be kept in the refrigerator for 3 days. Can be frozen for 2-3 months.