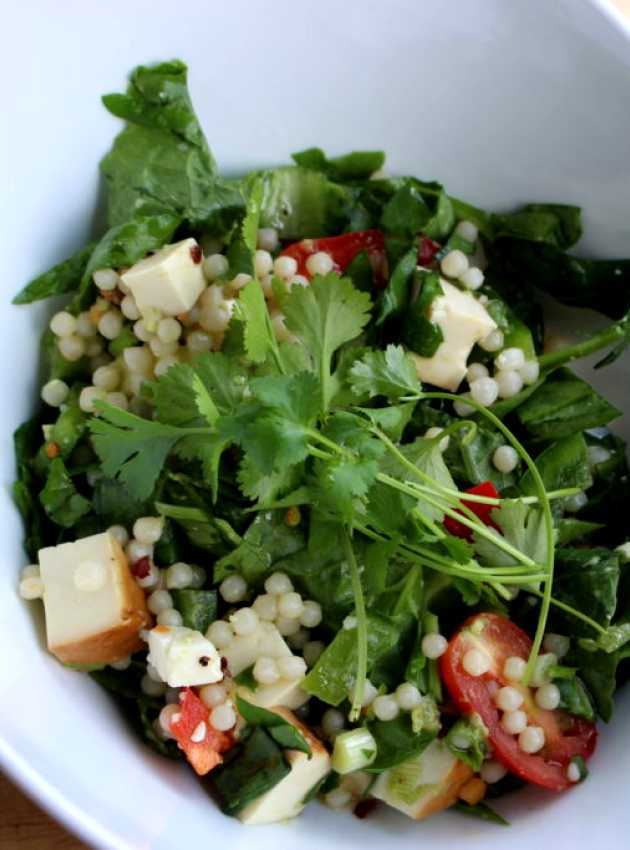 Indulge in the richness of our Israeli Couscous Salad, where garden vegetables intertwine with pearl couscous. A spicy cilantro dressing elevates each flavor, offering an explosion of exquisite tastes in every bite. A refined delight for taste enthusiasts!
Ingredients
250 ml (1 cup) of Israeli couscous (beaded) 
1 block of smoked tofu (210 g) 
250 ml (1 cup) cherry tomatoes 
1 diced green pepper 
1 to 2 finely chopped green onions 
1 diced lawyer 
125 ml (1/2 cup) feta cheese 
250 ml (1 cup) chopped spinach 
250 ml (1 cup) chopped romaine lettuce 
 Dressing: 
60 ml (1/4 cup) grilled sesame oil 
30 ml (2 tbsp) of rice vinegar 
3 ml (1/2 tsp) of chopped garlic 
45 ml (3 tbsp) of chopped fresh coriander (or other herb) 
1 to 3 ml (1/4 tsp to 1/2 tsp) dried chili peppers 
Salt and pepper to taste
Preparation
Cook the couscous as indicated on the package.
Mix all ingredients in a bowl. 
Whisk all the ingredients in the dressing. 
Mix the dressing with the preparation when it's time to eat. 
Enjoy your meal!