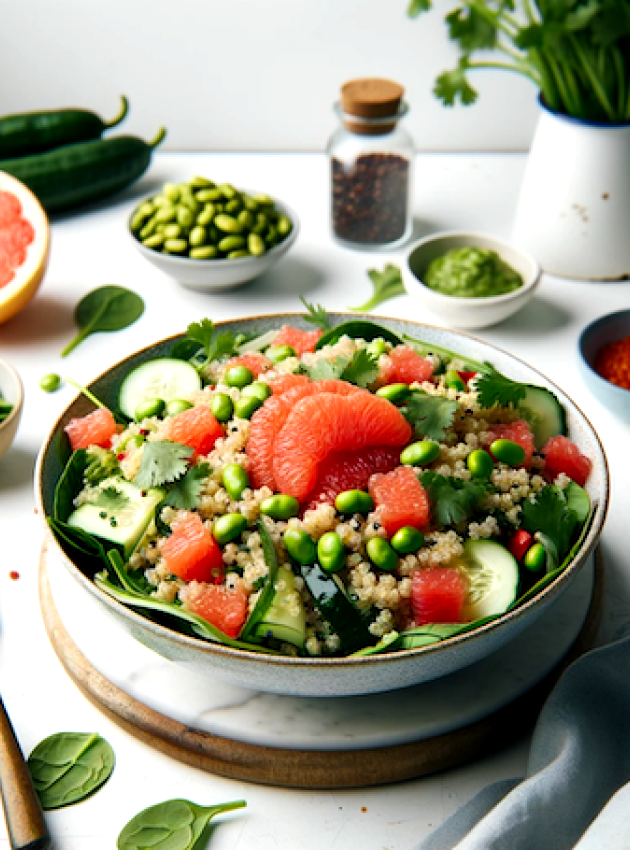 Explore the refreshing benefits of our Quinoa Salad with Grapefruit and Edamame. A delightful blend of flavors and nutrients that invigorates your taste buds and nourishes your body. A zesty and wholesome delight for every mealtime!
Ingredients
375 ml (1.5 cups) of dry quinoa or 1L (4 cups) of cooked quinoa
2 grapefruits
1 English cucumber
1 red bell pepper
750 ml (3 cups) of frozen edamame
3 green onions
60 ml (1/4 cup) of fresh cilantro
500 ml (2 cups) of spinach
Dressing
15 ml (1 tbsp) of honey or maple syrup
Juice of 1 lemon
15 ml (1 tbsp) of olive oil
1 ml (1/4 tsp) of ground cumin
1 ml (1/4 tsp) of ground coriander
Salt and pepper to taste
Preparation
Rinse the dry quinoa under cold water. Place it in a saucepan with 560ml (2 cups + ¼ cup) of water. Bring to a boil over medium-high heat. Once the water starts boiling, reduce the heat to low and cook covered for about 10 minutes.
Meanwhile, cut the grapefruits into supremes (remove the white membranes and keep only the flesh). Over a salad bowl, squeeze the white membranes to extract as much juice as possible. Cut the cucumber and red bell pepper into cubes, thinly slice the green onions, and roughly chop the fresh cilantro and spinach. Place everything in the salad bowl.
Prepare the dressing by mixing all the ingredients in a small bowl.
When the quinoa is cooked, mix it with the dressing and the frozen edamame in the salad bowl. Adjust seasoning as needed.