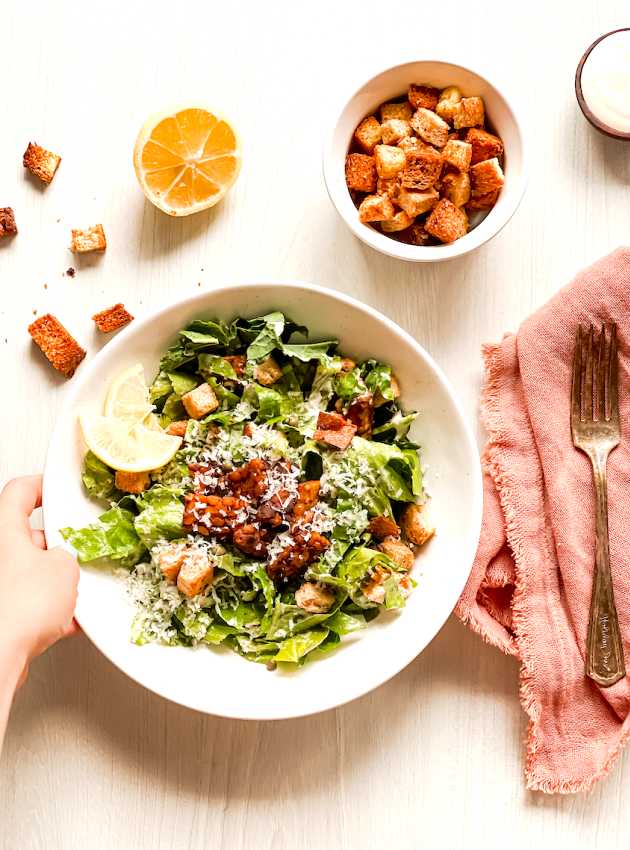 Here's a vegetarian Caesar salad with extra protein and a lighter dressing than the one you find in restaurants or grocery stores, but just as delicious! For an even less conventional version, feel free to add any veggies you have in the fridge (cucumber, bell peppers, alfalfa sprouts, etc.)!
Ingredients
Tempeh Marinade:
45 ml (3 tbsp) of water
15 ml (1 tbsp) of olive oil
15 ml (1 tbsp) of Dijon mustard
10 ml (2 tsp) of dried basil or Italian herbs
10 ml (2 tsp) of hot sauce (like Sriracha)
240 g (1 block) of tempeh, cut into pieces
Croutons:
4 slices of multigrain bread, cut into cubes
30 ml (2 tbsp) of olive oil
15 ml (1 tbsp) of nutritional yeast (optional)
Pepper and salt, to taste
Dressing:
30 ml (2 tbsp) lemon juice
30 ml (2 tbsp) light mayonnaise or vegan mayonnaise
30 ml (2 tbsp) 0% plain Greek yogurt
10 ml (2 tsp) capers
 
10 ml (2 tsp) Dijon mustard
10 ml (2 tsp) garlic-infused olive oil
Pepper, to taste
Salad:
8 cups (2 L) roughly chopped romaine lettuce and/or kale
30 ml (2 tbsp) fresh Parmesan, for sprinkling
Preparation
In a dish or large sealable bag (like Ziploc), mix all the ingredients for the tempeh marinade and add the tempeh. Let it marinate for at least 30 minutes at room temperature or longer in the refrigerator. (You can even do this the day before.)
Preheat the oven to 400°F (200°C).
In a bowl, mix the diced bread with olive oil, nutritional yeast, pepper, and salt.
Spread the bread cubes on a baking sheet lined with parchment paper or a silicone mat and bake for 10 minutes.
Meanwhile, cook the marinated tempeh in a pan over medium-high heat for about 5 to 7 minutes, flipping it occasionally until nicely grilled.
Mix all the dressing ingredients. Set aside.
Divide the salad into bowls, add the tempeh, croutons, and dressing, and mix well. Sprinkle with Parmesan and enjoy!