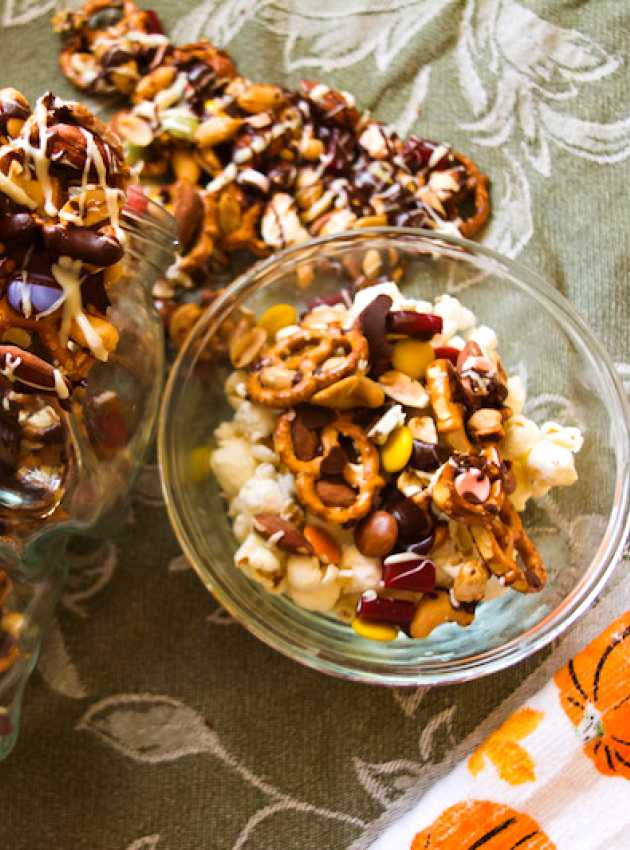 Embark on a flavorful adventure with our Halloween Hiker's Mix recipe. A spooky assortment of nuts, dried fruits, and delicious ingredients, perfect for satisfying your cravings on your terrifying escapades! Treats or thrills, it's up to you to decide!
Ingredients
100 g (2 ½ cups) pretzels
45 g (⅓ cup) peanuts
45 g (⅓ cup) almonds
45 g (⅓ cup) cashews
50 g (½ cup) chocolate Halloween candy
20 g (¼ cup) sweetened Halloween candy
Optional chocolate coulis
45 g (3 tbsp) semi-sweet chocolate chip (optional)
45 g (3 tbsp) white chocolate chip (optional)
10 ml (2 tsp) vegetable oil
Preparation
Spread pretzels, side by side, on a baking sheet or parchment paper.
Top with remaining ingredients.
Chill pan in the freezer for 10 minutes.
Spread semi-sweet and white chocolate over the mixture. Enjoy!
Conservation
It is important to keep in the refrigerator so that the chocolate does not melt. Can be kept for 7 days in the refrigerator.