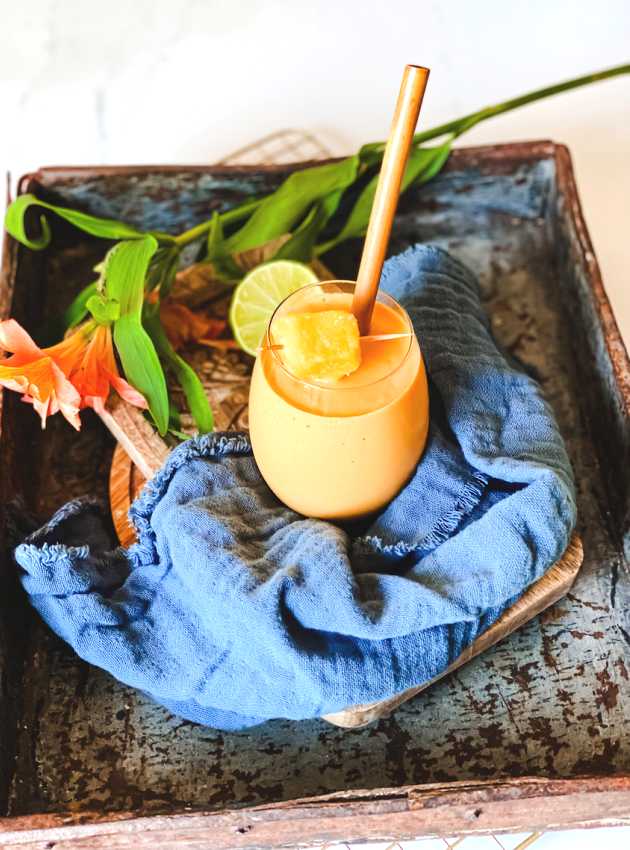 A refreshing snack packed with antioxidants! Smoothies are often a better option than juice as they retain the fiber and nutrients. It's a great way to increase your intake of fruits and vegetables. Plus, adding powdered peanut butter to this recipe adds a bit of protein to the smoothie, helping you stay satisfied until your next meal!
Ingredients
375 ml (1 ½ cups) frozen mango chunks
375 ml (1 ½ cups) unsweetened soy beverage
1 medium carrot, cut into pieces
Juice of one lime or lemon (or 15 ml / 2 tbsp)
30 ml (2 tbsp) powdered peanut butter
10 ml (2 tsp) fresh grated ginger
2.5 ml (½ tsp) turmeric powder
A pinch of black pepper *
*Adding black pepper enhances the absorption of curcumin in turmeric.
Preparation
In the blender, place all the ingredients and blend until smooth and homogeneous.
Pour into glasses and enjoy!