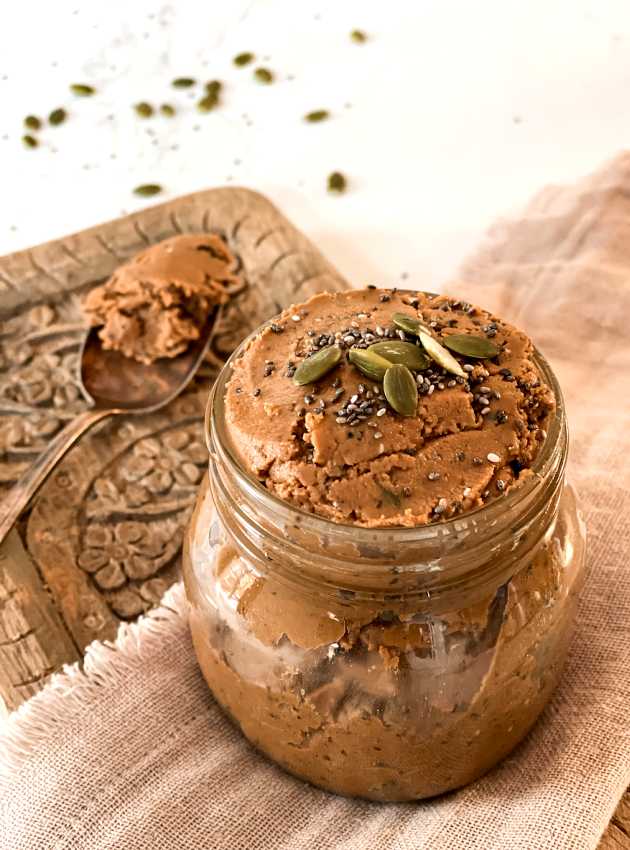 A great way to increase fiber and protein intake is by adding seeds to your nut butter. For a quick version, take natural peanut butter and simply add the other ingredients to enhance the nutritional value of your peanut butter!
Ingredients
500 ml (2 cups) raw peanuts
30 ml (2 tbsp) ground flaxseeds
30 ml (2 tbsp) chia seeds
45 ml (3 tbsp) raw pumpkin seeds
Preparation
In a heated skillet over medium-high heat, toast the peanuts for about 5 minutes, stirring occasionally. 
In a food processor, blend the peanuts on high speed for 5 to 10 minutes, depending on the power of your processor. Be patient, as it may take some time.
Once you reach the desired consistency, remove the blade and add the raw pumpkin seeds, ground flaxseeds, and chia seeds. Mix well with a spoon, then transfer to a jar.
Notes
Store at room temperature for up to one month.