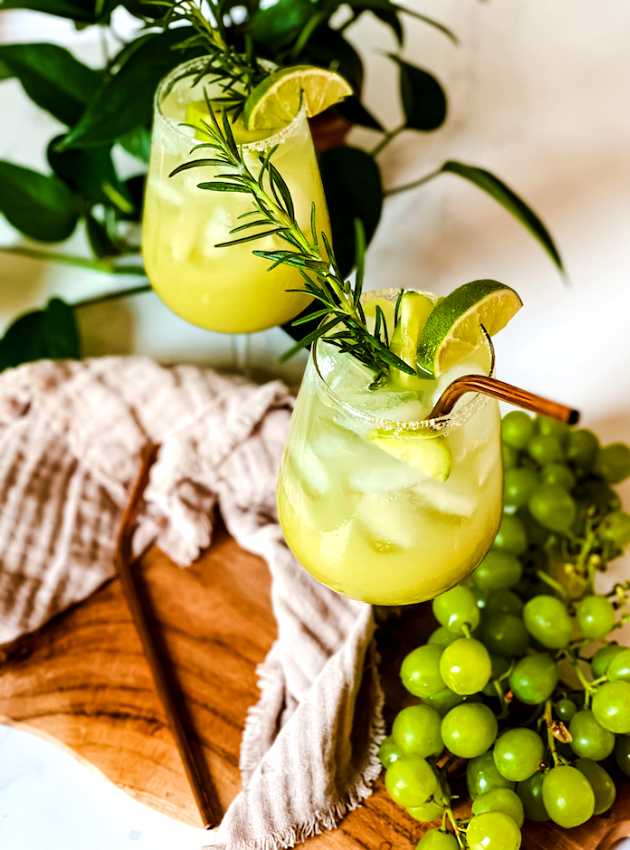 What could be more refreshing than a good mocktail on a hot day? You're sure to fall in love with this tangy, sweet, vitamin C-packed mocktail!
Ingredients
500 ml (2 cups) fresh green grapes
500 ml (2 cups) honeydew melon, cubed
250 ml (1 cup) peeled cucumber, cubed
The juice of 2 limes or 60 ml (¼ cup)
15 ml (1 tbsp) grated fresh ginger (optional)
A few ice cubes
500 ml (2 cups) sparkling water
Garnish (optional)
Rosemary
Lime wedges
Cucumber pieces
Preparation
Place grapes, melon pieces, cucumber, lime juice and ginger in a blender. Blend until smooth.
Sieve the mixture over a large bowl to strain out the pulp.** 
Fill tall glasses with ice cubes, pour in about 250 ml (1 cup) of the filtered mixture, then about 125 ml (½ cup) of sparkling water.
Add garnish if desired.
** Save the pulp to add in a smoothie such as our Green Protein Peach Smoothie!