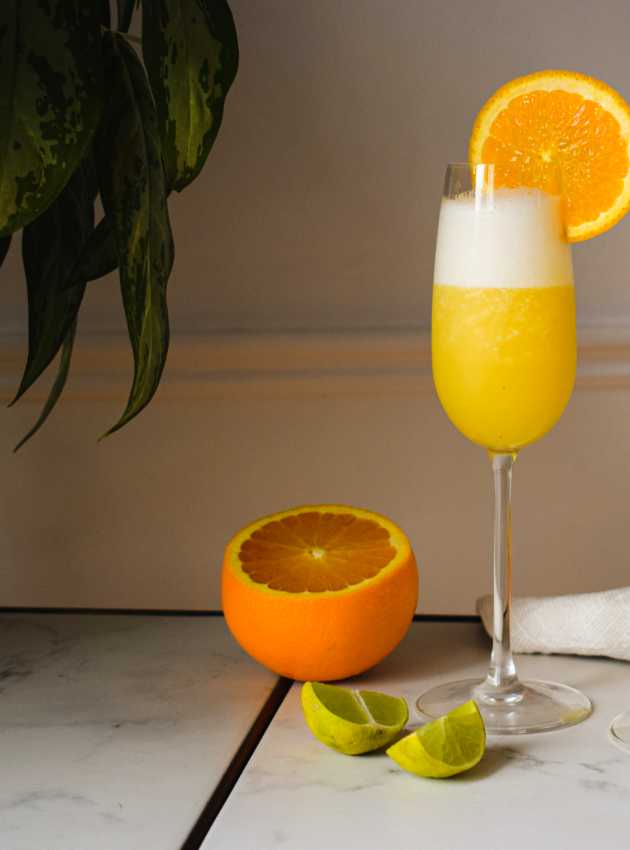 Orange juice provides a boost of vitamin C, while coconut water offers an intriguing hydrating option due to its electrolyte-rich composition, including potassium and magnesium. The combination of coconut and orange flavors brings to mind tropical vibes, while a hint of maple syrup takes us back to Quebec.
Ingredients
155 ml (½ cup + 2 tbsp) orange juice
125 ml (½ cup) coconut water
30 ml (2 tbsp) egg white (or 1 egg white) (see Notes)
10 ml (2 tsp) maple syrup
Juice of ½ lime (1 tbsp)
8 ice cubes (about 1 ½ cups)
1 ml (¼ tsp) coconut extract
2 orange slices, for garnish (optional)
Note: Coconut extract is easily found in grocery stores along with vanilla essence. It is not required in this recipe, but it does enhance the coconut flavor. You can use coconut extract again in cookies, muffins, energy balls or even oatmeal. In this mocktail, the egg white is helpful in getting a nice foam. Note that the separation between the liquid and the foam is normal after a few minutes of rest.
Preparation
Place all ingredients in the container of an electric blender or shaker, then blend vigorously until the ice is crushed.
Serve immediately in a cocktail glass and garnish with an orange slice, if desired.
Conservation
Keeps for 5-7 days in a Masson jar. Mix vigorously again before pouring into a glass and enjoy.