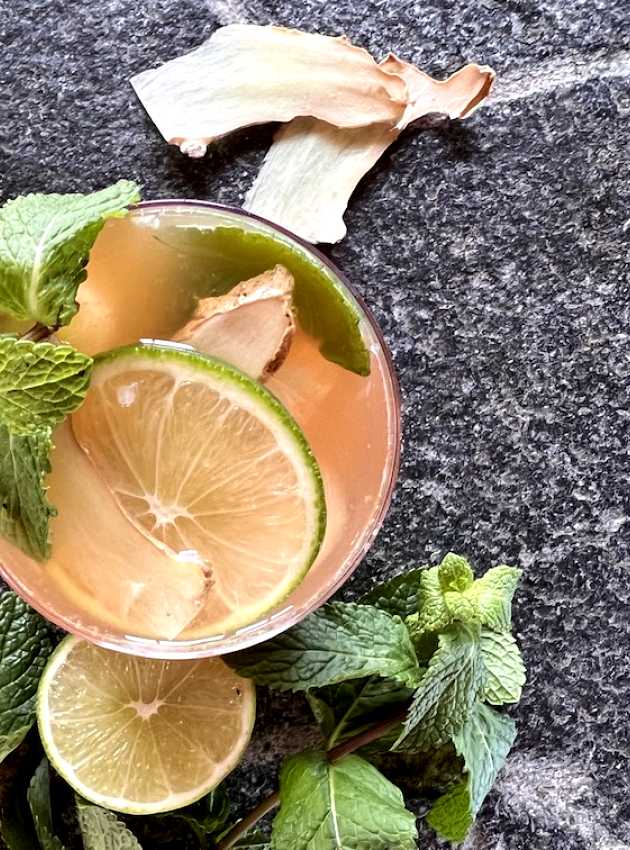 This cocktail uses ingredients that are probiotic, anti-inflammatory and low in sugar . Prepare this cocktail in advance to create a "prȇt à boire" or ready to drink. It also tastes great as a mocktail! 
Ingredients
1 bottle (414 ml) of ginger kombucha
10-15 mint leaves 
1 lime 
30 g (60 ml) fresh ginger, sliced 
2 oz (60 ml) gin 
Preparation
To create a "prȇt à boire", pour out approx. 90 ml of kombucha from the kombucha bottle, store in the fridge for later use.
Fill the bottle with sliced ginger, mint leaves, and the juice of one lime.
Add 2oz gin and let the mixture infuse in the fridge for up to 2-6 hours.  Longer infusion will result in stronger aromas. When ready, serve 2 portions over ice and top with the reserved kombucha. Enjoy! 
For mocktail: pour out only 30ml kombucha.
For quick service: in a shaker, combine ice, mint leaves, lime juice and gin. Grate ginger into the shaker. Shake. Pour evenly into 2 glasses, top with kombucha and extra garnishing as desired.