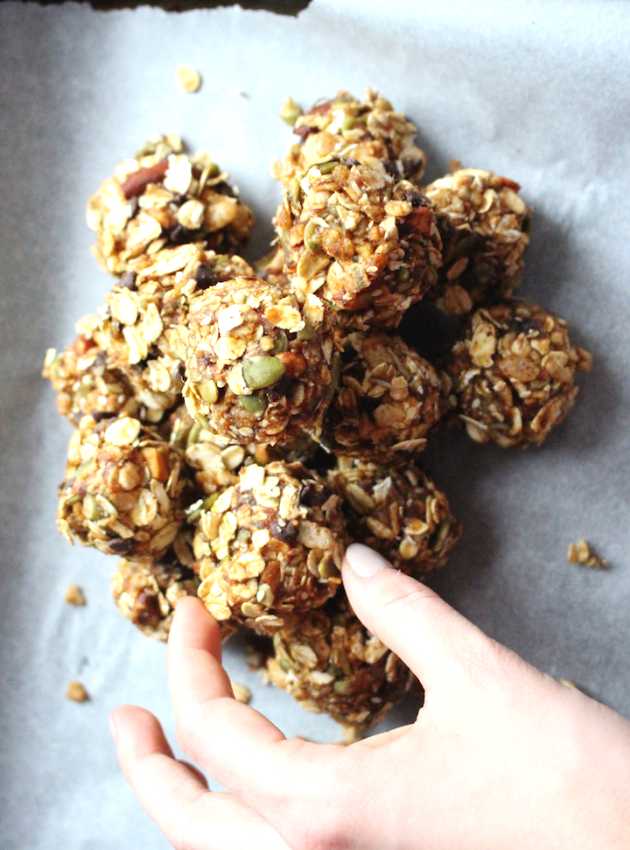 Discover our irresistible Energy Balls recipe! Made with soft dates, crunchy pumpkin seeds, crispy Rice Krispies, and coated in velvety chocolate, these little wonders provide a burst of healthy and indulgent flavors in a single bite.
Ingredients
20 small pitted dates
250 mL (1 cup) of water
65 mL (¼ cup) almonds, chopped
1/4 cup (65 mL) pumpkin seeds
15 mL (1 tbsp.) sesame seeds
45 mL to 60 mL (3 to 4 tbsp.) of the date cooking water
15 mL (1 tbsp) natural peanut butter
5 mL (1 tsp.) cinnamon (optional)
A pinch of salt
250 mL (1 cup) Rice Krispies
250 mL (1 cup) oats
65 mL (1/4 cup) mini sweet chocolate chips
Preparation
Boil the dates for about 10 minutes*. Let cool.
Put the cooked dates, almonds, pumpkin seeds, sesame seeds, cooking water, peanut butter, cinnamon and salt in a food processor and mix until all are reduced to a paste with small pieces.
Pour into a large bowl and add Rice Krispies, oatmeal and chocolate chips. Mix well.
Using a spoon and your hands, form 16 balls and keep in the fridge.
*Save the cooking water of the dates to cook your oatmeal the next day! It will add a sweet and delicious touch!