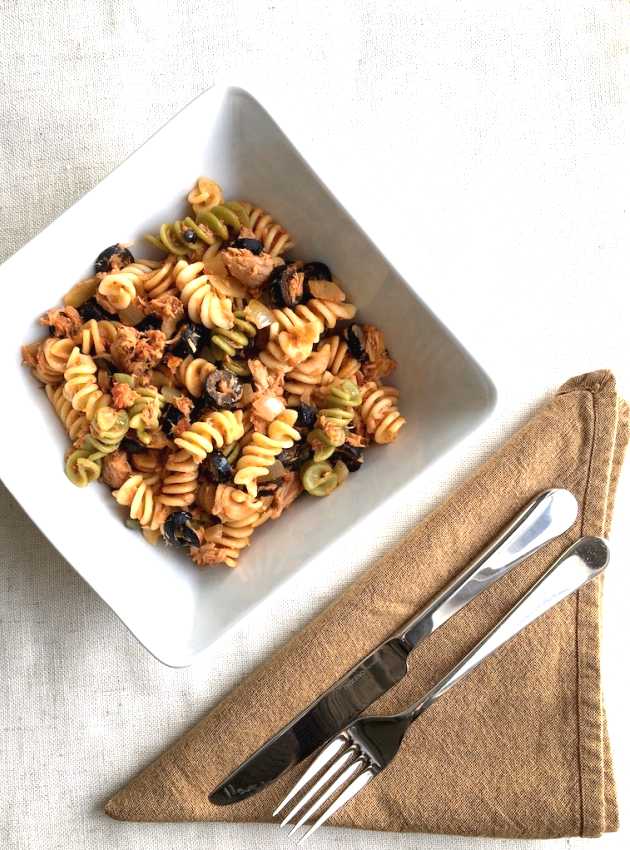 Feeling uninspired for dinner or haven't been grocery shopping? With garlic, onion, and a few pantry staples, dinner is served!
Ingredients
400 g short pasta (fusilli, rotini, farfalle, etc.)
60 ml (4 tbsp) olive oil
1 onion, chopped
2 cloves of garlic, pressed
180 ml (¾ cup) tomato sauce (homemade or canned)
2 cans (120 g each) tuna in water, drained
1 can (375 ml) sliced black olives, rinsed and drained
45 ml (3 tbsp) capers
Preparation
In a saucepan, cook pasta according to package directions. Drain.
Meanwhile, in another large saucepan, sauté onion in olive oil over medium-high heat.
After 2 minutes of cooking, add garlic.
When the onion is cooked, add tomato sauce and tuna. Crumble well the tuna and mix.
Add olives, capers and pasta. Mix well and serve.
Notes
Can be kept for 3 days in the refrigerator. Does not freeze.