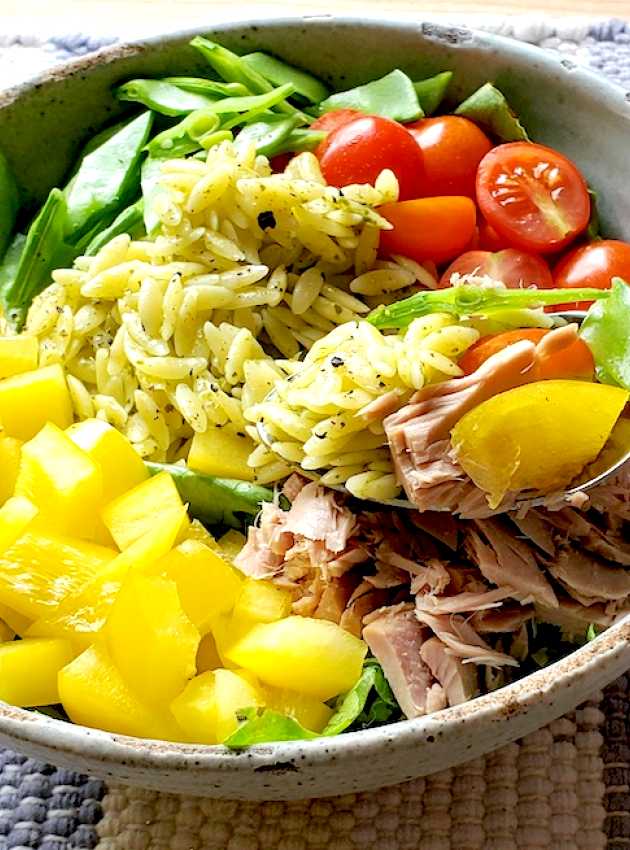 Discover an explosion of vibrant flavors and bright colors in our Orzo Pesto and Tuna Meal Salad. An enchanting blend of fresh and irresistible aromas that will awaken your senses with every delicious bite. Let yourself be carried away by this exquisite and nutritious culinary experience!
Ingredients
375 ml (1 ½ cups) orzo (gluten-free version : long brown rice)
45 ml (3 tbsp) pesto (the Seabiosis Kombu pesto goes perfectly with the tuna)
2 cans 170 g (6 oz.) light tuna chunks in water, drained
15 ml (1 tbsp) lemon juice
375 ml (1 ½ cups) cherry tomatoes, cut in half
250 ml (1 cup) sweet peas, cut into pieces
1 medium yellow bell pepper, diced
1 head romaine lettuce, torn into pieces
Salt and pepper to taste
Preparation
Cook the orzo according to the instructions on the box.
Mix cooked orzo with pesto in a large bowl. Add remaining ingredients to bowl and mix well. Season to taste.
Notes
Store for 2 days in the refrigerator in an airtight container.