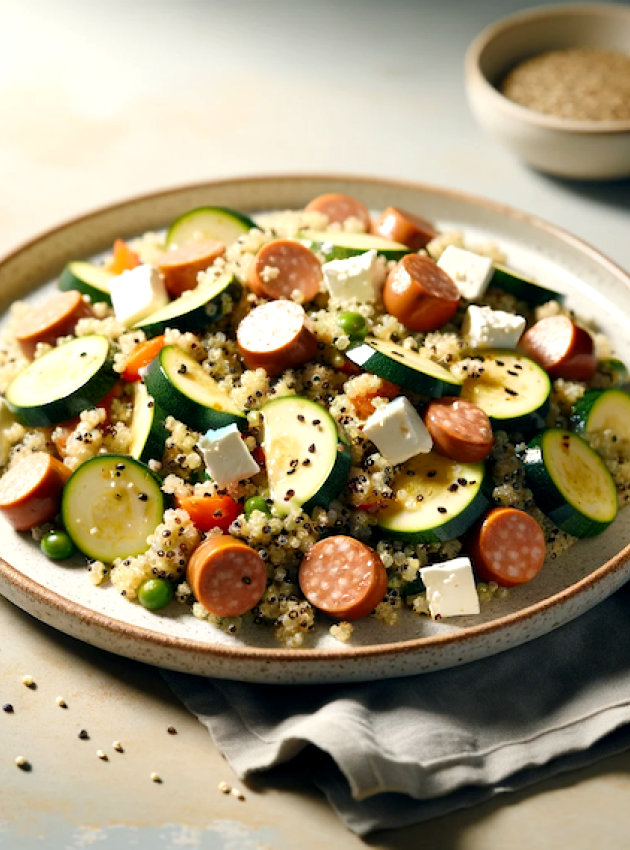 Savor the wholesome benefits of our Quinoa and Vegetarian Sausage Salad. A perfect fusion of plant-based goodness, delivering a delightful blend of flavors and nourishment. Elevate your meals with this nutritious and delicious delight!
Ingredients
250 ml (1 cup) of quinoa 
125 ml (½ cup) sliced radish 
2 sliced green onions 
1 zucchini cut into slices 
1250 ml (5 cups) of salad of choice 
85 ml (1/3 cup) feta cheese in small cubes 
250 (1 cup) of beans in sections 
3 sliced vegetarian sausages (we used the Gusta brand) 
Vinaigrette 
60 ml (4 tbsp) of olive oil 
15 ml (1 tbsp) of water 
10 ml (2 tsp) Dijon mustard 
15 ml (1 tbsp) of balsamic vinegar 
Salt and pepper 
1 clove of chopped garlic
Preparation
Cook the quinoa as indicated on the package. In a saucepan over medium-high heat, sauté 1 tsp of oil along with the green onions, zucchini and sausages. After 5 minutes, add the beans and stir. 
Cook another 5 minutes and remove. 
Make the vinaigrette by mixing all the ingredients with a fork. Put the rest of the ingredients in a large bowl. 
Add the quinoa and the rest of the ingredients, and mix.