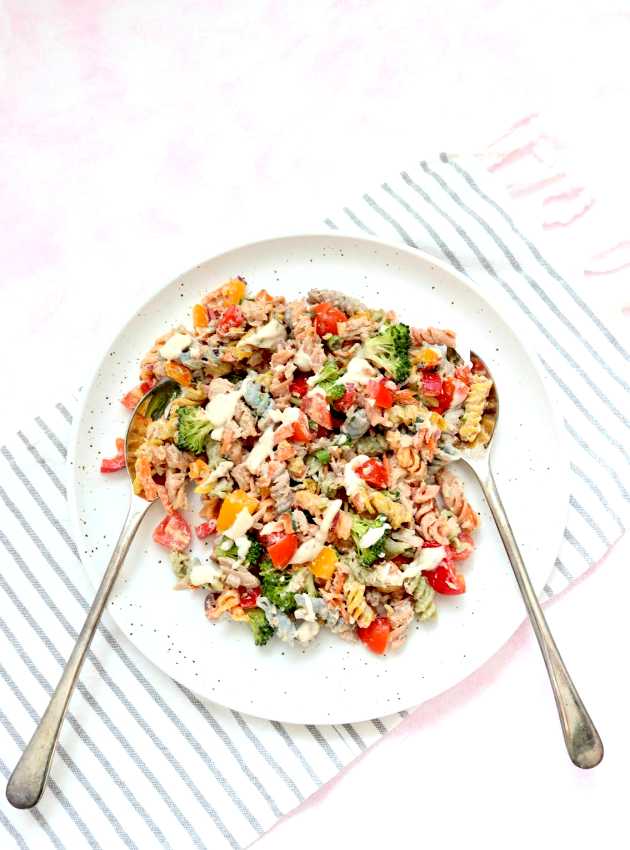 Discover our delicious and nutritious Creamy Tuna Pasta Salad recipe, packed with flavor and wholesome vegetables, perfect for a quick and satisfying lunch.
Ingredients
1 box of rainbow fusilli (such as Macaroni and Co.)
5 ml (1 tsp) olive oil
1 L (4 cups) raw vegetables of your choice, diced and/or shredded (see Note)
2 green onions, chopped, or 60 mL (1/4 cup) finely chopped red onion
2 - 120 g (4 oz) cans flaked tuna, drained
80 ml (1/3 cup) store-bought hummus
80 ml (1/3 cup) plain Greek yogurt
Pepper and salt, to taste
Note : I chose peppers, grated carrots, cherry tomatoes and broccoli.
Preparation
Bring a large pot of water to a boil. Cook the fusilli according to package directions. Drain, then stir in olive oil to prevent sticking. Set aside in the refrigerator.
In a bowl, combine hummus and Greek yogurt. Season generously with pepper and add a pinch of salt.
Add pasta, vegetables, green onions and tuna. Mix well.
Adjust seasoning to taste. Serve cold.
Notes
Can be kept up to 4 days in the refrigerator and does not freeze.