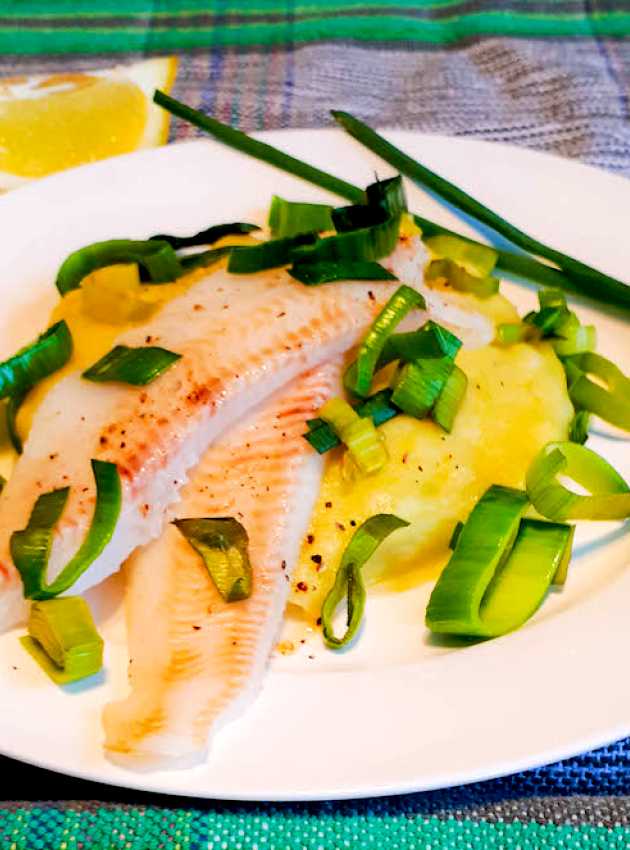 Indulge in the perfect combination of flavors, where the tenderness of the fish meets the sweetness of leeks. Easy to prepare, this dish will surely delight your taste buds. Follow our step-by-step recipe and treat yourself now!
Ingredients
1 medium potato
1 leek
5 ml (1 tsp) olive oil
300 g Turbot (or other white fish of choice)
Lemon juice, to taste
Salt and pepper, to taste
Preparation
Preheat the oven to 350°F.
Peel and coarsely chop the potato.
Mince the leek, and separate the white part from the green one.
Boil the potato and the white part of the leek, and blend them in a smooth puree. Add salt and pepper to taste.
Cook the remaining green part of the leek in a frying pan with olive oil. Reserve.
Place the Turbot filet on an aluminium sheet. Drizzle with lemon juice and add salt and pepper to taste. Cook in the oven for 5-6 minutes, or until the flesh is tender.
Place the Turbot filet on the potato-leek puree, and top with the fried leek.