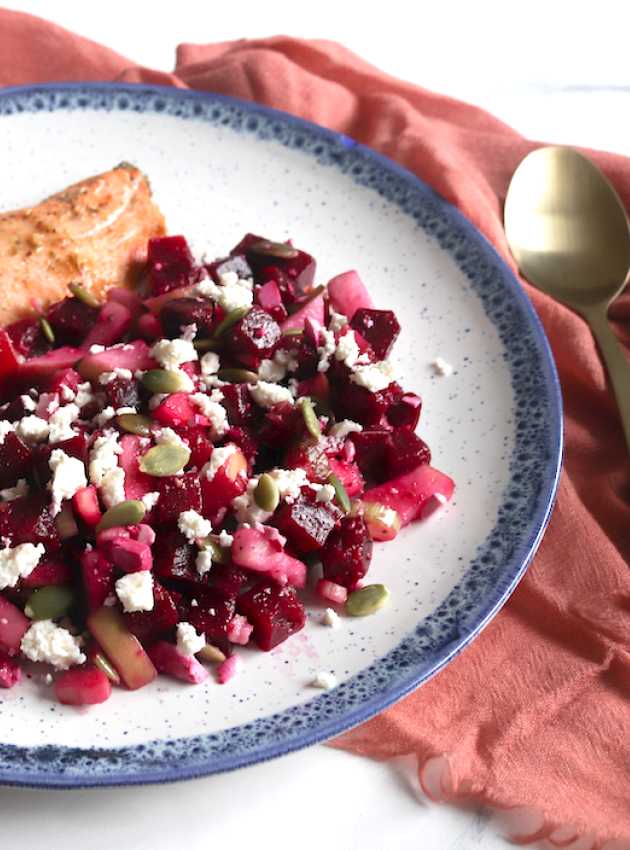 Discover our delicious recipe for Beet and Apple Salad, a fresh and vibrant combination that brings together the sweetness of beets with the crispness of apples. Serve with fish or meat and add a whole grain for a complete meal.
Ingredients
45 ml (3 tbsp) lemon juice
15 ml (1 tbsp) olive oil
15 ml (1 tbsp) maple syrup
1 - 398 ml (14 oz) can cubed cooked beets (DelMonte type)
1 large apple, small dice
1 stalk celery, small dice
50 g (1 ½ oz) feta cheese, crumbled (approx. 80 ml or ⅓ cup when crumbled)
60 ml (¼ cup) roasted pumpkin seeds
Preparation
In a large bowl, using a whisk, combine the lemon juice, olive oil and maple syrup.
Add all other ingredients and mix.
Notes
Can be kept for 4 days in the refrigerator and does not freeze.