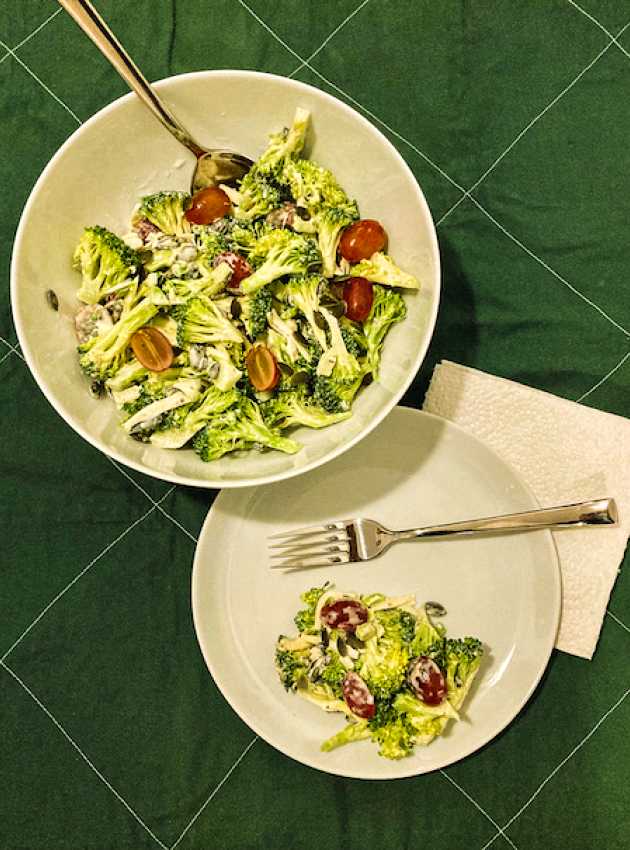 Discover our delicious broccoli salad recipe, fresh and crunchy. This recipe can be an excellent salad for your holiday dinner, accompanied by surprise turkey meatballs and bocconcini. 
Ingredients
Dressing
30 ml (2 tbsp) mayonnaise

30 ml (2 tbsp) plain yogurt 0% M.F.

30 ml (2 tbsp) cider vinegar 

15 ml (1 tbsp) whole-grain mustard
Salad
1 L (4 cups) broccoli, cut into small florets (about 1 broccoli)

125 ml (½ cup) red grapes, cut in half lengthwise

80 ml (⅓ cup) cheddar cheese, grated

80 ml (⅓ cup) pumpkin seeds, unsalted

2 green onions, chopped

1 pinch of salt

Pepper, to taste
Preparation
In a large bowl, whisk together mayonnaise, yogurt, vinegar and mustard. Season with salt and pepper.

Add remaining ingredients and mix well. 
Conservation
Can be kept 3-5 days in the refrigerator.