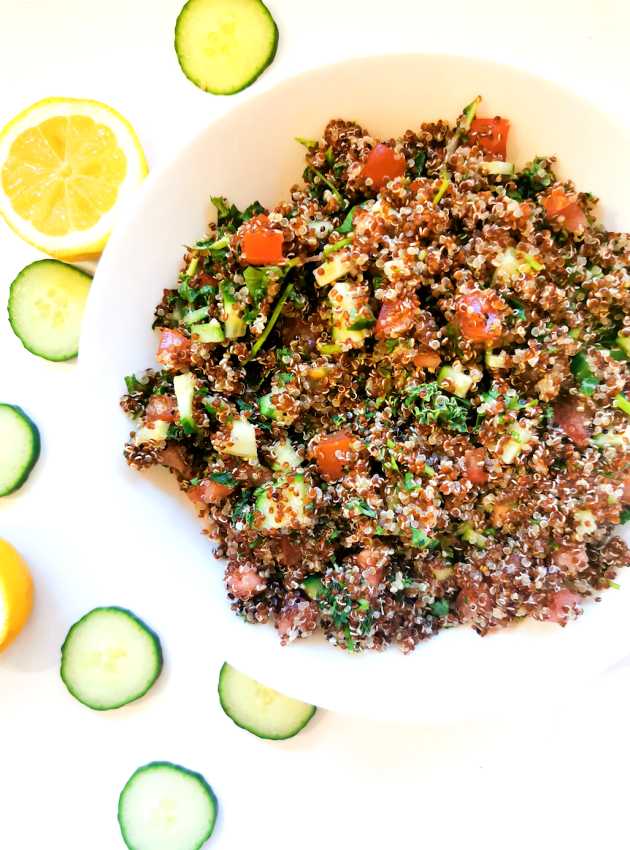 Discover our delicious low FODMAP quinoa tabbouleh recipe, perfect for individuals following this diet. Indulge in this light and refreshing dish, filled with flavors and easy to prepare. A delightful option for all tabbouleh lovers.
Ingredients
500 ml (2 cups) water
250 ml (1 cup) quinoa
2 Roma tomatoes
1 English cucumber
1 bunch curly parsley
3 green onions, green part only
30 ml (2 tbsp) olive oil
The juice of one lemon
Pepper and salt, to taste
Note: Traditional tabbouleh is made with cracked wheat which is a grain rich in FODMAP. By substituting quinoa, this version provides a low FODMAP recipe suitable for people with irritable bowel syndrome who are on an eviction diet.
Preparation
Place water and quinoa with a pinch of salt in a saucepan. Bring to a boil and reduce to a simmer for 10 to 15 minutes or until the liquid is completely absorbed.
Chill quinoa in refrigerator (or freeze for a quicker option).
Dice tomatoes and cucumbers. Finely chop parsley and green onion.
Mix quinoa with vegetables, herbs, oil and lemon juice. Season with salt and pepper to taste.
Serve the salad with grilled meat or fish.
Notes
Keeps for 5 days and does not freeze.