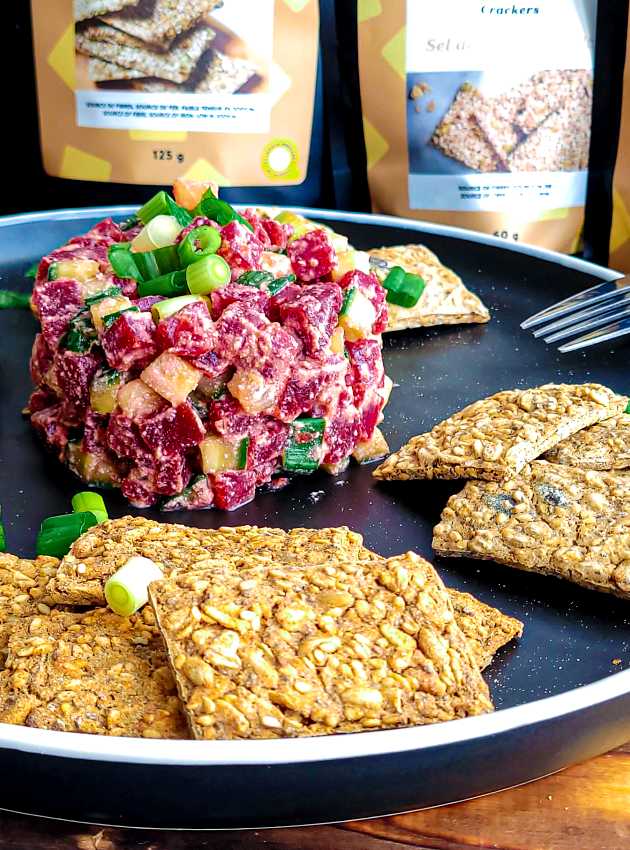 This tasty and colourful tartar is almost too simple for the success it will be at your happy hour. Ready in 10 minutes, the slightly sweet taste of the beets and the creaminess of the ricotta are a perfect match for the flavours of the crackers of La fabrique gourmande. You must try it! Enjoy and have a great evening!
Ingredients
16 Auze Skandinav crackers (The Gourmet Factory), any flavour
1 cup canned pickled beets, diced
125 ml (½ cup) diced cucumbers
1 green onion, finely chopped
30 ml (1 tbsp) light ricotta cheese
5 ml (1 tsp) Dijon mustard
5 ml (1 tsp) balsamic vinegar
Salt and pepper to taste
Preparation
In a bowl, gently mix all ingredients.
Serve cold as a tartar or as a garnish with crackers. For a beautiful presentation of the tartar, use a burger press, a small bowl or a simple measuring cup (1 cup): fill with the mixture, press and place upside down on the presentation plate.
Conservation
Can be kept for 5 days in the refrigerator. Do not freeze