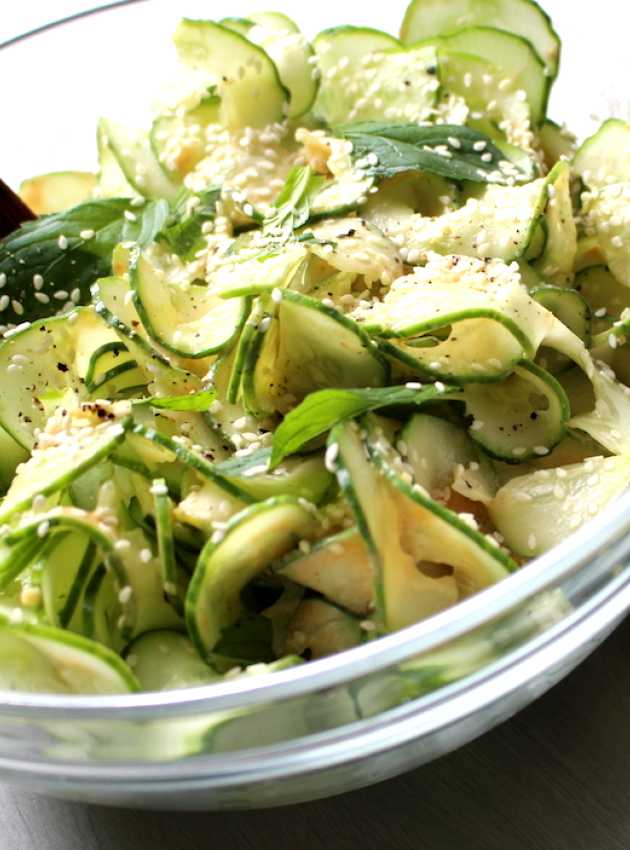 Experience the perfect balance of flavors with our irresistible Asian Cucumber Salad. Fresh ingredients, a touch of exoticism, and an explosion of delightful tastes await. A refreshing and light pleasure to savor!
Ingredients
2 English cucumbers
Fresh mint (optional)
For the Asian dressing
30 ml (2 tbsp) sesame oil
15 ml (1 tbsp) sesame butter
10 ml (2 tsp) Sambal Oelek
Juice of ½ lime
10 ml (2 tsp) maple syrup
10 ml (2 tsp) freshly grated ginger
30 ml (2 tbsp) sesame seeds
30 ml (2 tbsp) tamari or soy sauce
Pepper, to taste
Preparation
In a large bowl, mix the dressing ingredients. 
Use a spiralizer to cut the cucumbers and place them in the bowl. 
Pour the dressing, toss, and optionally add fresh mint. 
Serve immediately or refrigerate before adding the dressing. Excellent with grilled tofu, chicken, falafels, or fish!