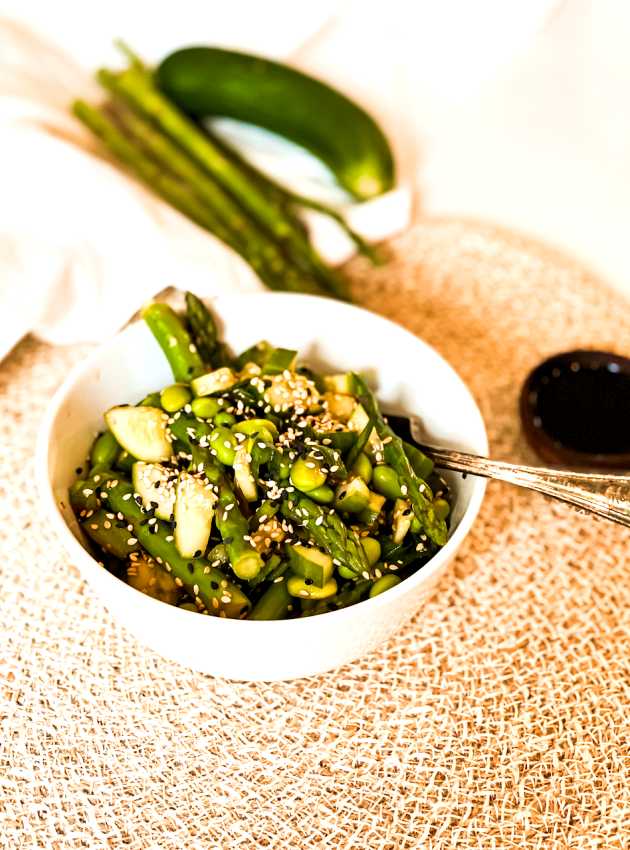 Ingredients
250 ml (1 cup) frozen shelled edamame
350 g (approx. 16) asparagus, cut into sections (see Note)
4 to 5 Lebanese cucumbers, diced
2 green onions, chopped
30 ml (2 tbsp) toasted sesame oil
The juice of one lemon (60 ml or ¼ cup)
15 ml (1 tbsp) rice vinegar
15 ml (1 tbsp) soy sauce
15 ml (1 tbsp) Sambal Oelek (or sriracha)
15 ml (1 tbsp) sesame seeds
Note : For a low FODMAP option, use green beans instead of asparagus.
Preparation
In a bowl, cover the edamame with boiling water and leave to soak for 3 to 5 minutes before rinsing with cold water and draining.
Meanwhile, steam the asparagus for about 3 minutes, or until the asparagus is cooked but still slightly crunchy. Rinse and drain.
In a large bowl, combine edamame, asparagus, cucumber and green onions.
In a small bowl, mix all dressing ingredients with a fork, then pour over salad. Mix well and serve immediately.
Notes
Keep for 4 days in the refrigerator, but this salad is best eaten immediately. Does not freeze.