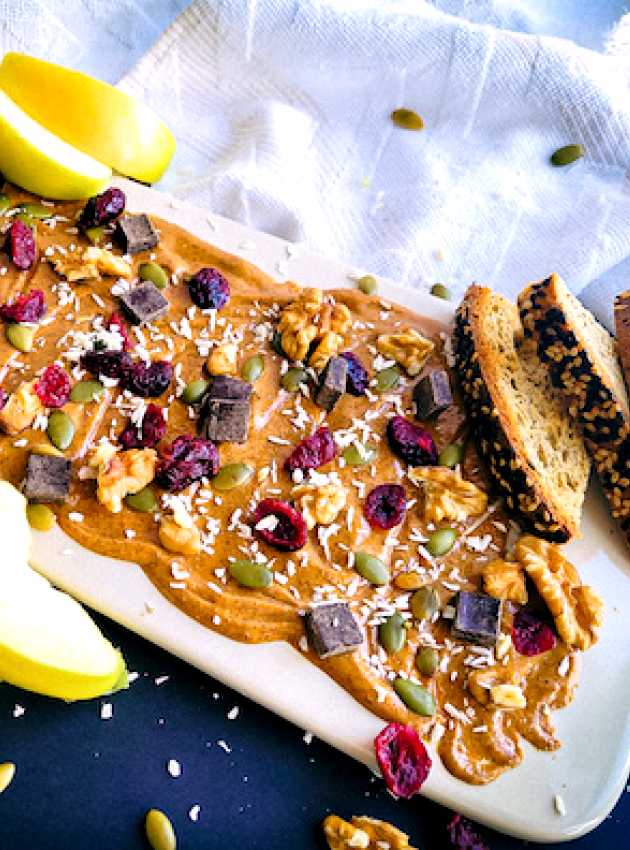 Indulge in a delightful almond butter board. This customizable and nutritious dessert is perfect for satisfying cravings and providing a burst of flavors and textures, beautifully presented on a board with sliced apples and toasted whole grain bread.
Ingredients
60 ml (¼ cup) natural almond butter
15 ml (1 tbsp) dry roasted pumpkin seeds, unsalted
15 ml (1 tbsp) dried cranberries
30 ml (2 tbsp) walnut halves
15 ml (1 tbsp) 70% cocoa dark chocolate pieces
5 ml (1 tsp) shredded coconut
7.5 ml (½ tbsp) honey
Toppings
1 apple
2 slices whole grain bread, toasted
Preparation
Spread the almond butter on the board.
Sprinkle with remaining ingredients except apple and toasted bread slices.
Slice the apple and cut each piece of toast into 4 pieces.