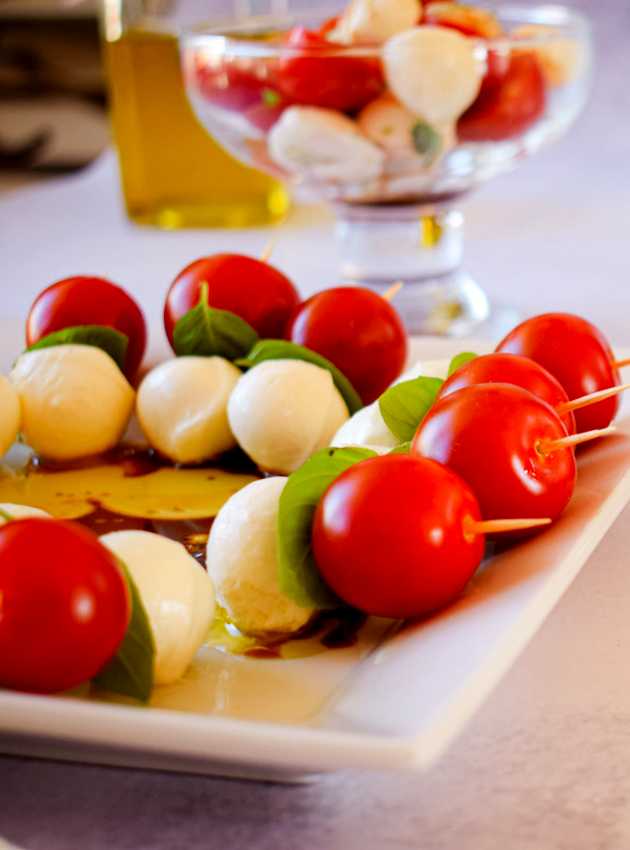 This recipe is perfect for snacking and even for serving as an appetizer or starter! Bocconcini is a soft, fresh cheese that is typically unsalted and lower in fat than some firm cheeses.
Ingredients
350 g (20 units) cherry tomatoes
1 - 200 g jar (18 units) cocktail bocconcini cheese
18 fresh basil leaves
Olive oil
Balsamic vinegar
Salt and pepper to taste
Preparation
For Skewers
Prick a whole tomato on the toothpick, then insert the basil leaf and finish with the bocconcini ball. 
Repeat the steps with the other toothpicks for the number of skewers you want. 
Serve on a plate with olive oil, balsamic vinegar and sprinkle with salt and pepper.
For a Salad
Cut the tomatoes and bocconcini in half. 
Chop the basil leaves and mix in a bowl. 
Add a drizzle of oil and vinegar, sprinkle with salt and pepper and serve chilled.
Notes
Can be stored 3-5 days in an airtight container in the refrigerator.