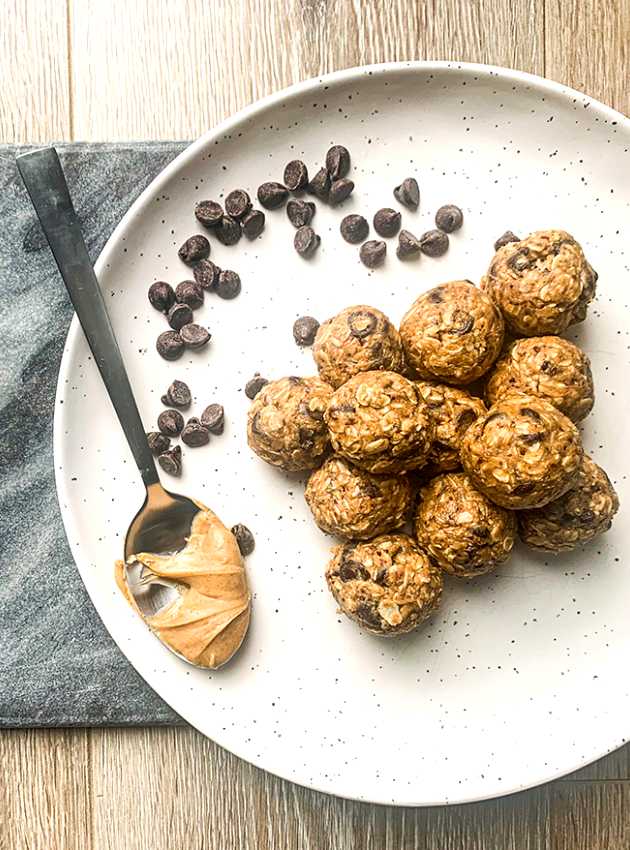 Discover our delicious recipe for Gluten-Free "Cookie Dough" Energy Balls. These small, energy-packed treats are perfect for cookie lovers, offering a healthy and gluten-free snack that will satisfy your sweet cravings while providing a boost of vitality. Get ready to savor an explosion of flavors in every bite.
Ingredients
250 ml (1 cup) rolled oats
125 ml (½ cup) semi-sweet chocolate chips
60 ml (¼ cup) ground flax seeds
5 ml (1 tsp) cinnamon
125 ml (½ cup) natural peanut butter or soy butter
30 ml (2 tbsp) honey (FODMAP version : replace with maple syrup)
5 ml (1 tsp) vanilla extract
Preparation
In a large bowl, mix the rolled oats, chocolate chips, flax seeds and cinnamon.
Add peanut butter, honey and vanilla and knead with hands to form a smooth dough.
Using your hands, roll into 12 balls about the size of a golf ball.
Refrigerate 1 hour before serving.
Conservation
Can be kept 1 week in an airtight container in the refrigerator or 3 months in the freezer.