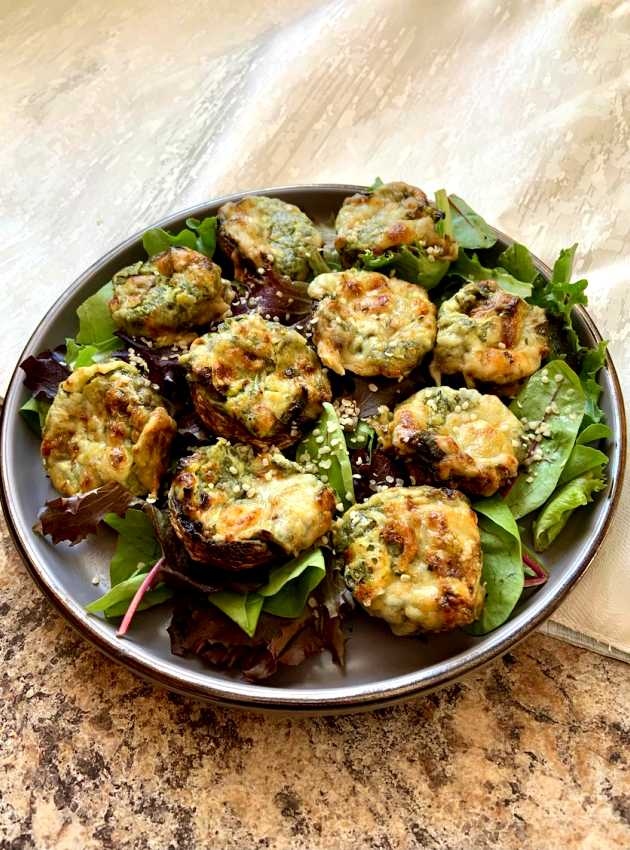 Discover our delicious recipe for Creamy Spinach Stuffed Mushrooms. These delectable bites combine the richness of mushrooms, the creaminess of spinach, and a burst of savory flavors. Try this irresistible appetizer today!
Ingredients
10 to 12 white mushrooms
30 g (¼ cup) marble cheese 19% M.F., grated
750 ml (3 cups) baby spinach, chopped
60 ml (¼ cup) light cream cheese, tempered
5 ml (1 tsp) garlic powder
5 ml (1 tsp) onion powder
Salt and pepper, to taste
Note: For a low FODMAP version, omit the garlic and onion powder. If desired, use a garlic-infused oil such as Maison d'Orphée brand.
Preparation
Remove the stems from the mushrooms. Set aside.
In a bowl, combine cream cheese, spinach, and spices.
Place spinach mixture in the hollow of the mushrooms. Sprinkle with grated cheese.
Place stuffed mushrooms in an air fryer at 325°F (160°C) and cook for 10 minutes.
Conservation
Can be kept for 5-7 days in the refrigerator.