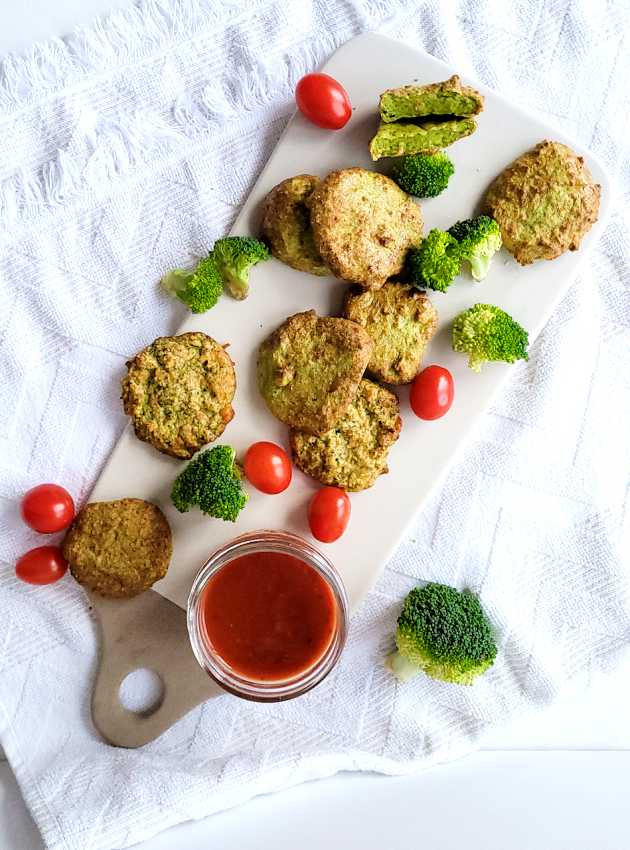 A delicious and fun way to make your kids love broccoli! These bites will please both the little ones and the grown-ups.
Enjoy your meal!
Ingredients
250 ml (1 cup) rolled oats
1 L (4 cups) broccoli florets
250 ml (1 cup) grated cheddar cheese
4 eggs
10 ml (2 tsp) Italian seasoning
2.5 ml (½ tsp) garlic powder
Pepper and salt, to taste
Note : For a gluten-free recipe, choose certified gluten-free oats.
Preparation
Preheat the oven to 190°C (375°F).
In a food processor, grind the rolled oats into powder. Set aside in a small bowl.
In the same food processor, finely chop the broccoli florets.
Add the ground oats and the remaining ingredients. Pulse until you have a homogeneous mixture.
Using a spoon, place 15 ml (1 tablespoon) of the mixture on a baking sheet lined with parchment paper. Repeat for the entire mixture, leaving a little space between each bite.
Gently press each bite with the back of the spoon to give them a uniform thickness.
Bake for 20-25 minutes until they are lightly golden. Let them cool before serving.
Serve with Marinara sauce or your sauce of choice.
Notes
Store in an airtight container in the refrigerator for up to 3 days. Freeze for up to 3 months.