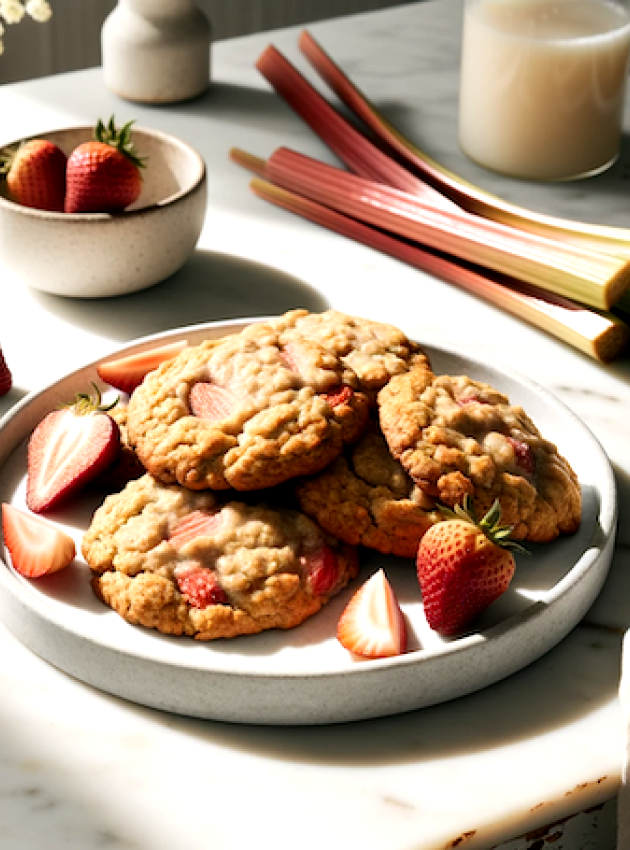 Explore a rhubarb dessert where sweetness and tartness meet, enhanced with a nutritious touch of chia seeds. Perfect for your week's meal prep!
Ingredients
15 ml (1 tablespoon) chia seeds
30 ml (2 tablespoons) water
250 ml (1 cup) all-purpose flour
125 ml (1/2 cup) buckwheat flour
190 ml (3/4 cup) oats
2.5 ml (1/2 teaspoon) baking soda
2.5 ml (1/2 teaspoon) salt
125 ml (1/2 cup) margarine
65 ml (1/4 cup) unsweetened applesauce
125 ml (1/2 cup) brown sugar
1 egg
250 ml (1 cup) sliced strawberries
250 ml (1 cup) sliced rhubarb
Preparation
Preheat the oven to 350°F and line two baking sheets with parchment paper. 
In a small bowl, let the chia seeds soak in water. Set aside. 
In a bowl, mix all-purpose flour, buckwheat flour, baking soda, and salt. Set aside. In another bowl, using an electric mixer, beat margarine with applesauce, brown sugar, egg, and the chia seed mixture. 
Add the flour mixture and stir with a spatula. 
Add oats, strawberries, and rhubarb, and mix again. 
Using a tablespoon, drop about 1 tablespoon of dough, ensuring to leave about 1 inch of space between each cookie. 
Bake in the oven for 13 to 15 minutes.