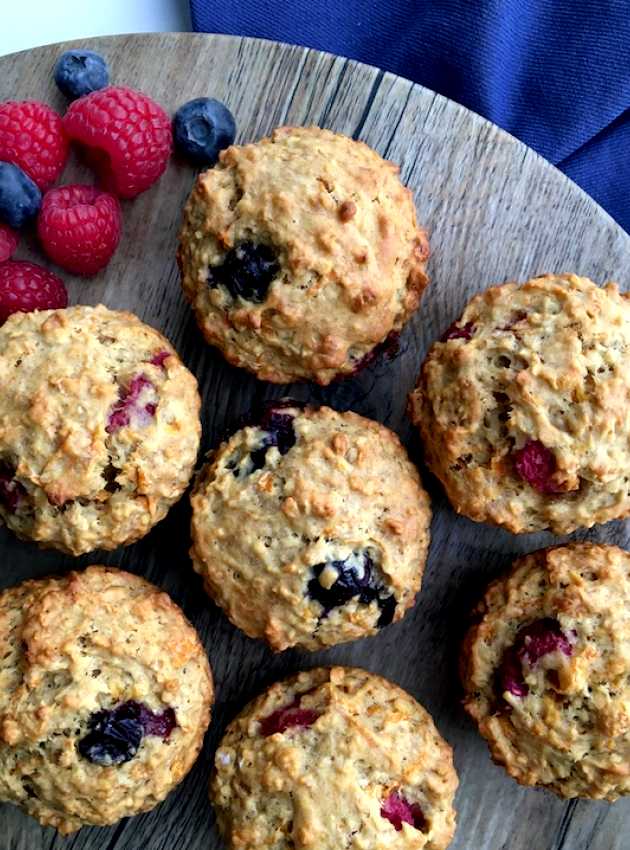 Enjoy these delicious morning banana and berry muffins, perfect for a balanced and indulgent breakfast. For a heartier breakfast, you can top these muffins with our delicious peanut butter with chia seeds or your favorite Greek yogurt.
Ingredients
250 ml (1 cup) quick-cooking oats
180 ml (¾ cup) all-purpose flour
125 ml (½ cup) whole wheat flour
80 ml (⅓ cup) brown sugar
10 ml (2 tsp) baking powder
2 ml (½ tsp) baking soda
1 egg
1 medium-sized banana, mashed
80 ml (⅓ cup) milk (or almond, soy, etc. milk)
60 ml (¼ cup) vegetable oil
5 ml (1 tsp) vanilla extract
1 medium-sized carrot, peeled and grated
250 ml (1 cup) raspberries and/or blueberries (fresh or frozen)
125 ml (½ cup) chopped nuts of your choice (optional)
Preparation
Preheat the oven to 200°C (400°F). Place the rack in the middle of the oven.
In a large bowl, combine the dry ingredients: quick-cooking oats, all-purpose flour, whole wheat flour, brown sugar, baking powder, and baking soda.
In a small bowl, mix the egg, banana, milk, oil, vanilla, and grated carrot.
Pour the liquid mixture into the dry ingredients.
Add the berries and nuts if desired.
Divide the mixture into 12 muffin cups.
Bake for 20 minutes or until a toothpick inserted comes out clean and the tops are lightly golden.