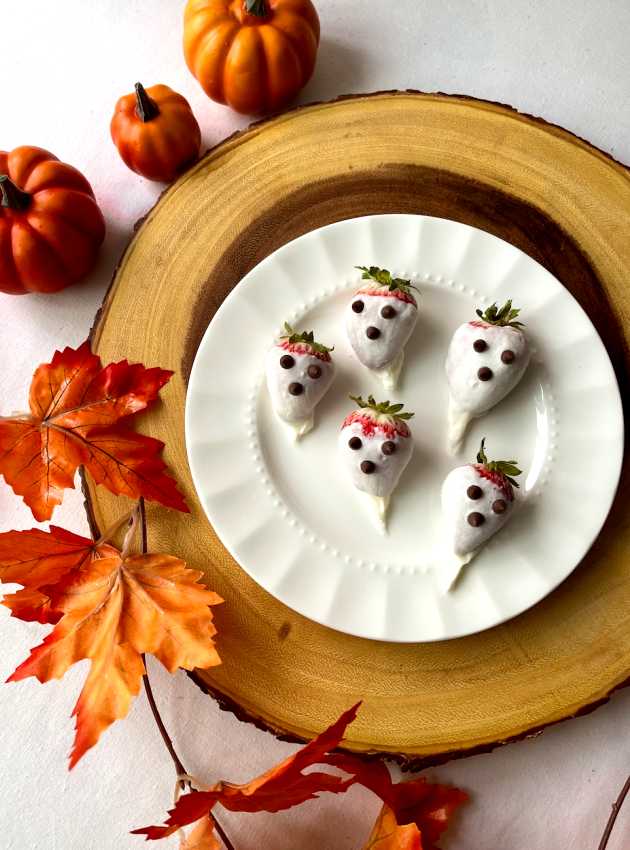 Here's a fun and deliciously spooky Halloween recipe: Strawberry Ghosts! These frozen treats will be the star of your festivities. Get ready to delight your taste buds with this creative dessert that combines the freshness of strawberries with the sweet flavors of Greek yogurt and chocolate. A true treat for little and big monsters alike!
Ingredients
100 ml (6 1/2 tbsp) of 0% fat Greek yogurt
20 ml (4 tsp) of icing sugar
20 strawberries
20 ml (4 tsp) of mini semi-sweet chocolate chips
Preparation
Mix the yogurt and icing sugar in a small bowl using a whisk. 
Line a baking sheet measuring 25 x 36 cm (10 x 14 inches) with parchment paper. 
Using a teaspoon, place a dollop of yogurt on the parchment paper. These drops will represent the ghosts' chins. 
Coat each strawberry with the yogurt mixture by holding it by the stem and placing it on the drawn drops. 
Add 3 chocolate chips to each strawberry to form the eyes and mouth. 
Let them chill in the freezer for 45 minutes before enjoying.
Notes
They can be stored in the freezer for up to 1 month.