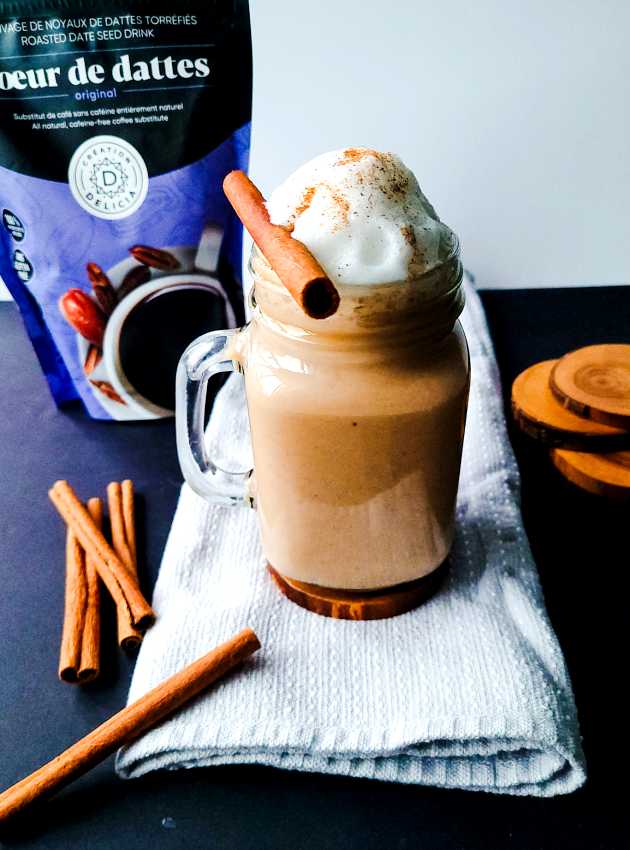 As colorful leaves and cooler temperatures arrive, it's time for pumpkin-spiced warm drinks! Here's a caffeine-free version of this autumn classic, made with the exquisite date seed coffee from Création Délicia. Enjoy your favorite beverage at any time of the day without worrying about digestive issues or insomnia. This drink is even suitable for children!
Ingredients
375 ml (1 ½ cups) unsweetened vanilla almond milk
190 ml (¾ cup) canned pumpkin puree
30 ml (2 tbsp) maple syrup
5 ml (1 tsp) ground cinnamon
2.5 ml (½ tsp) ground nutmeg
1 ml (¼ tsp) ground ginger
400 ml (1 2/3 cups) water
Toppings (optional)
125 ml (½ cup) frothed hot milk
2 cinnamon sticks
Preparation
In a saucepan, mix all the ingredients except for the water, date seed coffee, and toppings.
Heat over medium heat for 5 minutes, continuously stirring with a whisk, without bringing it to a boil.
During this time, prepare the roasted date seed coffee using a drip or French press coffee maker.
Optional: The pumpkin puree provides a thicker and creamier texture to the coffee. At this point, you can blend the mixture to make it smoother or strain the milk mixture through a sieve to remove the pumpkin fiber, making the preparation more liquid and less thick.
Add the date seed coffee and distribute the drink into 2 cups.
If desired, garnish with frothed milk, sprinkle with cocoa, and add a cinnamon stick.
Notes
Best enjoyed immediately. Also delicious when served cold: store in an airtight container in the refrigerator for up to 3 days, without the toppings.