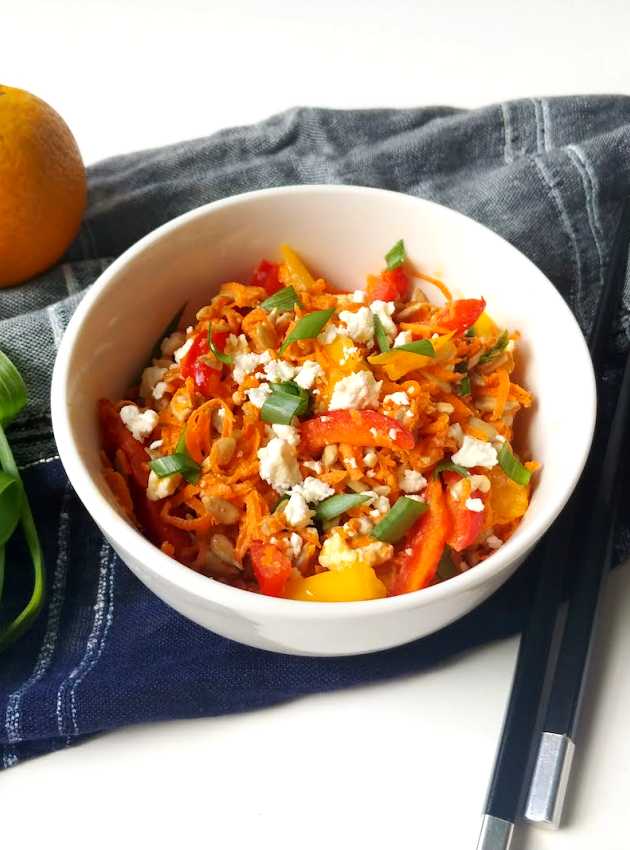 Delight in the nutty sesame and zesty orange notes, complementing the crisp carrots for a refreshing and nutritious dish. Elevate your salad game with this vibrant and delicious recipe!
Ingredients
Vinaigrette
30 ml (2 tbsp) sesame butter (tahini)
30 ml (2 tbsp) honey (or agave or maple syrup)
1 orange, zest and juice
Pepper and salt to taste
Salad
4 medium carrots, grated (about 500 ml or 2 cups)
2 peppers, color of choice, small dice
4 green onions, chopped
1 orange, peeled and diced
2 light 3 cm (60 g) cubes feta cheese, crumbled
125 ml (1/2 cup) roasted, unsalted sunflower (or pumpkin) seeds
Preparation
In a large bowl, combine dressing ingredients.
Add vegetables, orange and sunflower seeds and toss. 
To serve, crumble feta cheese over each serving.
Notes
Can be kept for 5 days in the refrigerator