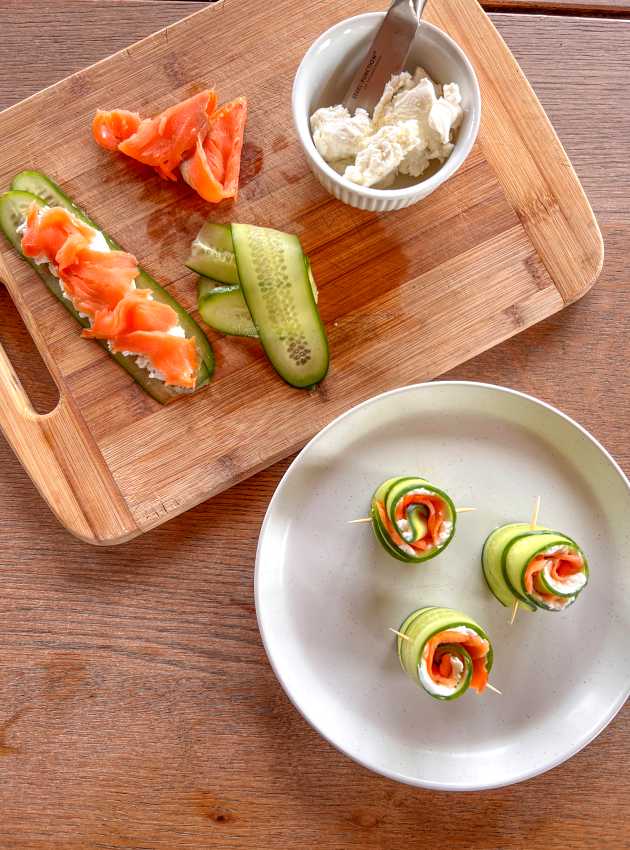 Looking for a healthy and delicious low-carb snack? Try these refreshing cucumber, goat cheese and smoked salmon wraps! They're packed with flavor and nutrients and are the perfect snack for any time of day. Plus, they're easy to make and will satisfy your hunger without raising your blood sugar.
Ingredients
1 lebanese cucumber, washed
30 ml (2 tbsp) light goat cheese < 20% M.F.
2 slices (40 g) smoked salmon, thawed
Poppy seeds and sesame seeds, to taste 
Preparation
Using a mandolin (or vegetable peeler), cut cucumber lengthwise into 6 thin strips.
Lay 2 cucumber strips vertically, overlapping half of one strip on top of the other to create a larger surface. Do the same thing with the other cucumber strips to end up with 3 pairs of strips.
On one end of each cucumber slice, place 10 ml (2 tsp) of goat cheese and spread evenly.
Add pieces of smoked salmon to each cucumber strip.
Firmly roll each cucumber strip around the cheese and salmon mixture.
Secure each roll with a toothpick to hold its shape.
Sprinkle rolls with poppy and sesame seeds to taste and serve chilled!
Conservation
Can be kept for 4 days in the refrigerator, and does not freeze.