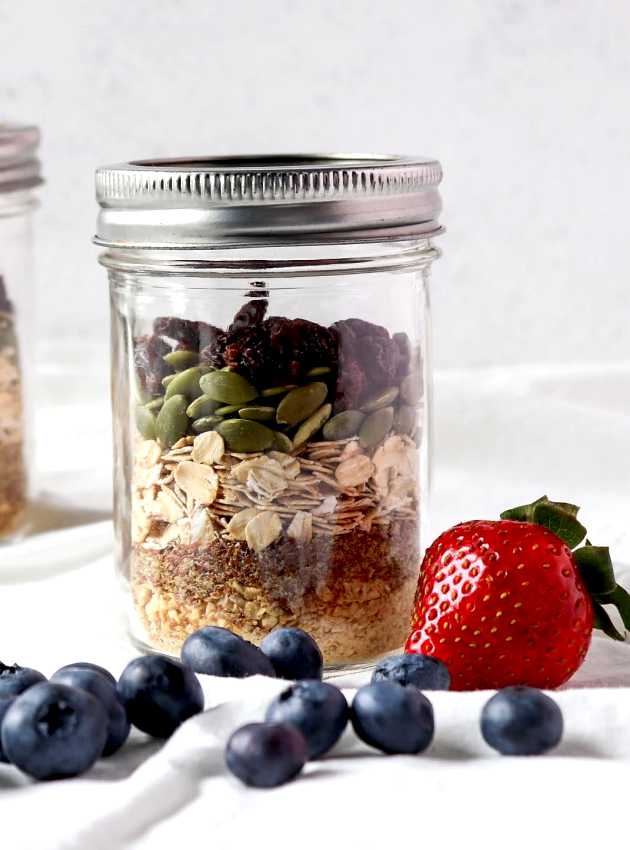 Discover our delicious recipe for Oats to go, a wholesome and flavorful option rich in fiber and protein. A balanced breakfast to kickstart your day. Try it now!
Ingredients
Base
325 ml (1 1/3 cups) large flake oats
180 ml (3/4 cup) textured vegetable protein (TVP)
125 ml (1/2 cup) unsalted pumpkin seeds
125 ml (1/2 cup) ground flax seeds
Optional additions
30 ml (2 tbsp) dried fruit
15 ml (1 tbsp) cocoa powder
2 ml (1/2 tsp) cinnamon
For the assembly
125 ml (1/2 cup) unsweetened soy beverage or milk + 15 ml (1 tbsp) to be added after cooking
15 ml (1 tbsp) maple syrup  (optional)
125 ml (1/2 cup) fresh fruit  (optional)
15 ml (1 tbsp) nut butter  (optional)
Preparation
In 4 airtight containers, distribute the base ingredients: Each serving contains 80 ml (1/3 cup) rolled oats, 45 ml (3 tbsp) PVT, and 30 ml (2 tbsp) each of ground pumpkin seeds and flax seeds. If desired, add dried fruit, cocoa powder and/or cinnamon. Save for later use.
To serve, add soy beverage and maple syrup, if desired. Mix well. At this stage, you can also let the mixture sit overnight in the refrigerator to create an "overnight" oatmeal to be enjoyed cold.
Microwave for 2 to 3 minutes depending on desired texture.
For a creamy texture, add 30 ml (1 tbsp) of soy beverage and mix. Garnish with fresh fruit and nut butter if desired.
Notes
The dry mix can be stored for 3 months in an airtight container at room temperature. Prepared oatmeal can be stored for 3 days in the refrigerator.