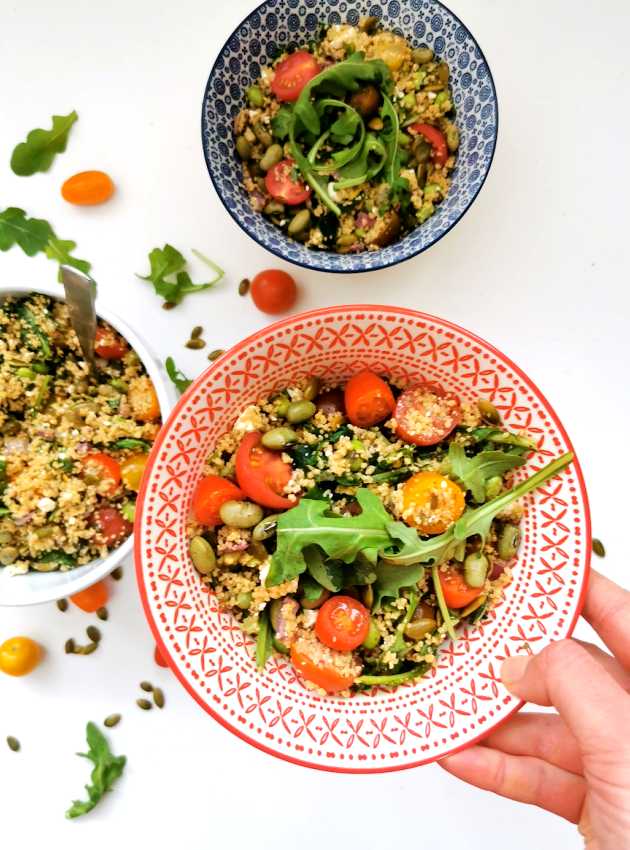 Discover our delightful recipe for Quick Couscous Salad with Kombu Pesto: a delectable fusion of crisp vegetables and umami-rich Kombu pesto. Ready in a snap, this salad will charm you with its simplicity!
Ingredients
250 ml (1 cup) whole wheat couscous
250 ml (1 cup) frozen shelled edamame
500 ml (2 cups) halved cherry tomatoes
175 ml (3/4 cup) crumbled feta cheese
125 ml (1/2 cup) pumpkin seeds
½ red onion, chopped
2 green onions, chopped
750 ml (3 cups) arugula
75 ml (1/3 cup) Seabiosis VEGAN Kombu Pesto
The juice of one lemon
Pepper and salt
Note: For a warm salad, let cool for only 5 minutes as indicated and for a cold salad, cook the couscous in advance and leave it in the refrigerator.
Preparation
In a small saucepan, bring 250 ml (1 cup) of water to a boil.
Add the shelled frozen edamame and couscous, then remove from heat. Cover and let stand for 5 minutes. *
Meanwhile, in a large bowl, combine cherry tomatoes, feta cheese, pumpkin seeds, onion, green onions and arugula.
Using a fork, break up couscous and stir into vegetable mixture.
In a small bowl, combine pesto and lemon juice.
Add to couscous and mix well. Season with pepper and salt to taste.